Here at i-to-i, we have a range of expertly-created TEFL certification courses for you to choose from. All of our TEFL certification courses are government regulated and accredited – and they're designed to give you the skills and knowledge you need to excel as a TEFL teacher, whether you want to teach English online or abroad! But with all these options, you might be asking yourself, "Which TEFL certification course should I take?".
Breakdown of our course levels
First things first, let's start with a breakdown of our TEFL certification course levels and what they all mean:
Level 3 TEFL certification – our Level 3 TEFL certification courses are the most basic TEFL Courses we provide, they're equivalent to UK A Levels. They're designed for anyone with fluent or native-level English and will give you an introduction and basic understanding of English teaching knowledge that you can use to teach English online or abroad.
Level 5 TEFL certification – our Level 5 TEFL certifications are a much more advanced TEFL Course, in fact they're CELTA-level equivalent, so they're pretty high up on the TEFL scale! These courses are designed for native-level English speakers as they dive deeper into the English language and how to teach it. A Level 5 Certification Course is perfect for anyone wanting to start a new career in TEFL or looking for access to the highest paying TEFL jobs online or abroad.
Specialist TEFL certification – our Specialist TEFL certification courses are designed to be added onto your Level 3 or Level 5 TEFL certification to give you additional specialist training in areas such as Teaching English Online, Teaching English One-to-One and Teaching Young Learners.
We hope that's cleared up some confusion already, but if you still need help choosing, ask yourself these 5 questions:
Are you a native-level English speaker?
No
If you're not a native-level English speaker but you're fluent in English, we'd generally recommend getting a Level 3 TEFL certification. With your level of English, you'll be able to complete a Level 3 TEFL Course with ease and you'll learn all the basics about teaching English so that you can go on to teach online or abroad – winner!
Yes
If you're a native-level English speaker you're more than qualified to complete our Level 5 TEFL certification and we'd definitely recommend you do! Our Level 5 TEFL Courses will give you the in-depth knowledge you need about teaching English to land some of the best TEFL jobs out there. Plus, it looks super good on your CV and is recognised by TEFL employers all over the world.
Do you have any teaching experience?
No
If you don't currently have any teaching experience, don't worry – most of our graduates come to us with no teaching experience and look at them now! If you're only just starting to dip your toes into the world of TEFL and you're unsure if teaching is for you, we'd suggest starting out with a low-hour TEFL Course such as our Level 3 120 hour TEFL certification or our Level 5 180 hour TEFL certification. This way you'll ease yourself into the world of teaching and can always upgrade to more hours later on.
Yes
Amazing! You're already one step ahead! If you're already a qualified teacher, we'd definitely recommend getting a Level 5 TEFL certification. With your experience, you'll absolutely fly through the Level 5 Courses. Plus, team your experience up with a high level TEFL certification such as our Level 5 TEFL Diploma and your CV will look super impressive to any TEFL employer – win, win!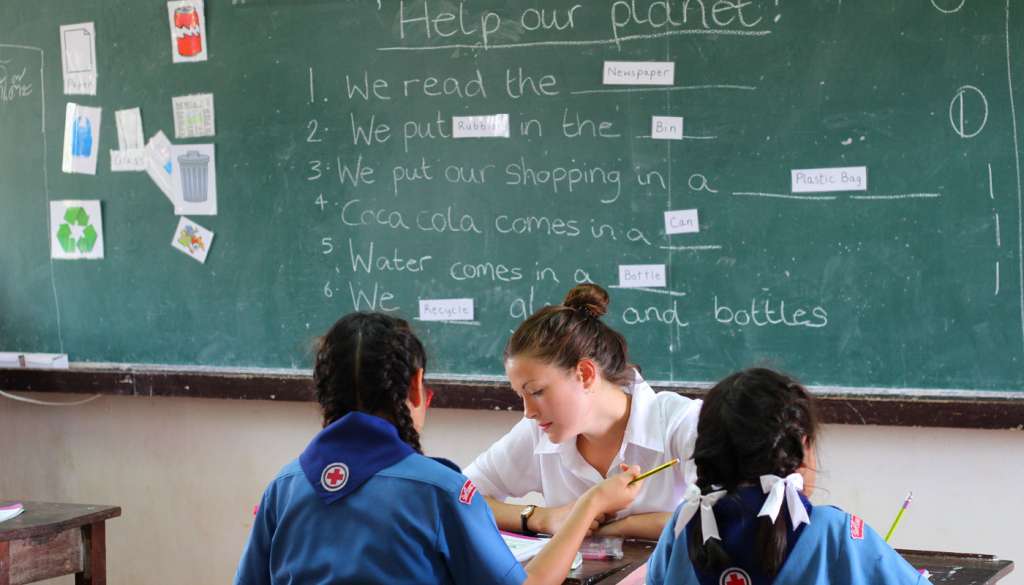 What are your long-term teaching plans?
I want to TEFL as a career
Amazing choice – you're going to love it! If you're wanting to ditch the 9-5 world of work and break into a more exciting and flexible career – TEFL is the one for you! To give yourself all of the skills you need to make your career move as easy as possible, we'd recommend getting the best TEFL certification! Our Level 5 TEFL Diploma is the highest level TEFL certification you can get, in fact, we're the only TEFL Course provider to offer it! Your Level 5 Diploma will give you in-depth knowledge into the English language and how to teach it, as well as specialist training in Teaching One-to-One, Teaching Online and Teaching Business English – what more could you possibly need?!
I'm not sure
No problem! If you're unsure of your long-term career plans but think teaching English could be right for you, then our standard recommendation is to start with a Level 3 Certification. These courses will introduce you to basic concepts of TEFL and can also give you an idea of whether the teaching English is a good fit for you. You can always upgrade or add-on some specialist training in future!
How quickly do you want to get TEFL qualified?
I want to get qualified quickly
No worries at all! Lots of our graduates came to us wanting to get TEFL qualified as quickly as possible and it's certainly doable. All of our TEFL certification courses can be completed online and at your own pace, so if you put in the time, you could be qualified within a matter of weeks! Especially if you take one of our lower-hour courses such as the Level 5 180. Remember – you can always purchase one of our Specialist Courses later.
I'd rather take longer and get more training
If you're here for the long-haul and time isn't a huge issue to you, we'd ALWAYS suggest opting for our higher level TEFL certification courses. These courses have been designed by our DELTA-qualified tutors and TEFL employers to ensure we're giving you the best training possible and in all of the areas TEFL employers look for.
Where do you want to teach English?
Abroad
If you want to teach English abroad now or in the future, it's a great idea to consider where you want to teach, and what the TEFL market might look like in your ideal destination. Generally speaking, Africa, parts of Asia, and Latin America are less competitive markets for teaching positions, so a Level 3 certification should be enough to teach in these countries. While the Middle East, Europe, and English-speaking countries are super competitive, so if you want to teach here, you're going to have to give yourself a competitive edge by taking a higher-level TEFL certification!
Online
If you want to teach English online, we'd always recommend getting a TEFL certification with specialist training in teaching English online, such as our Level 5 TEFL Diploma. Teaching English online is very different than teaching English in classroom and requires a different set of skills that a specialist course will give you!

Still not sure which TEFL Certification to choose?
If you're still not sure which TEFL certification is best for you and your goals, our TEFL experts can help! Book a free call with them today and let them help you start your TEFL journey right!
The post Which TEFL certification should I get? appeared first on i-to-i TEFL.