We don't want to blow our own trumpet but….we just couldn't hold this one in!! We're a TEFL winner!
GoAbroad.com, one of the best-known and most-trusted online portals for travel programmes and travel-related courses, have announced their award winners for 2022 and i-to-i TEFL has won an award for being a Top TEFL Organisation!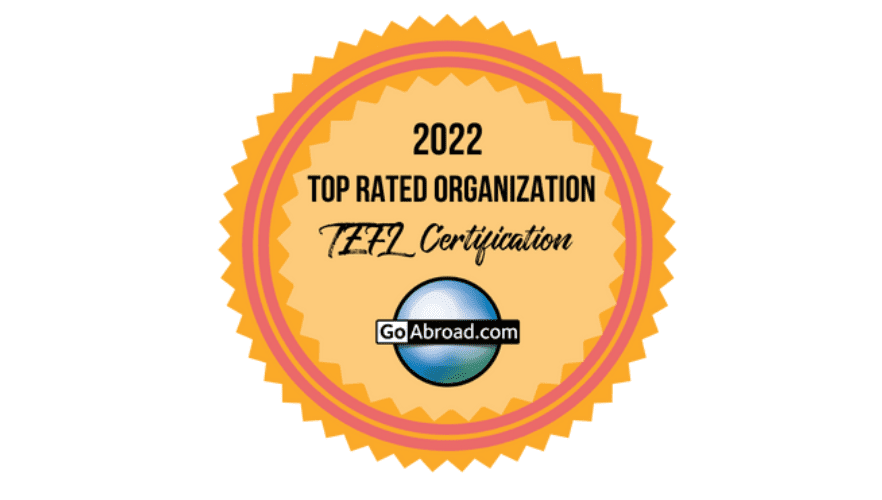 We're so proud to receive this award and, given that GoAbroad.com select their award winners based on user reviews from the last year, we're so glad that we've been able to help so many people achieve their teaching and travelling dreams in 2022.
What makes i-to-i special? (we hear you ask…) Well for starters, we offer:
The only TEFL Diplomas on the market
These are all Level 5 according to the Ofqual framework, which makes them the same level of qualification as a Foundation Degree or a CELTA
We have Diplomas and Advanced Diplomas available, depending on how much training you want to do
All of our Level 5 courses come with salary boosting modules, to make sure your TEFL CV stands out from the crowd
A host of support teams to help you
Our TEFL Advisor team – a friendlier bunch of individuals would be hard to find! This wonderful team are TEFL experts and can answer any question you might have and help you select the right TEFL course for your needs, whether you're looking to teach online or in classrooms abroad.
Our Customer Support team – this group are technology whizzes and know everything there is to know about all the technical aspects of your course. Any questions about logging in or navigating the course? Just give them a message and they'll have you moving in no time.
Our Academic Support team – our highly qualified team of academic support staff and tutors have extensive experience with TEFL teaching and know our courses inside out. They will be able to provide you with useful feedback on your assignments, and will be there to answer any questions you might have about the course material. This will mean you can breeze through your course and get qualified more quickly!
Our Jobs Support team – this team has excellent knowledge of TEFL jobs and the application process. So, they will be able to assist and direct you to useful resources on how to create the perfect TEFL CV, how to prepare your application, and how to ace your TEFL interviews, so you'll be earning as a TEFL teacher before you know it!
Affordable payment plans
For our higher level courses, we've introduced affordable payment plans. We know times are rough and we don't want you to have to put your dreams on hold!
With a payment plan, you don't have to wait and save up for months to be able to get started. You can start studying immediately and pay off your course in manageable monthly instalments. So you're getting a quality course at a price you can afford, and you don't have to put off those TEFL dreams until later!

And we've been around for over 28 years, so we are well-known and respected by TEFL employers around the world. Our longevity also means we have a wealth of experience and knowledge at our backs, that we can use to help you achieve your teaching and travelling dreams!
Ready to get started with an award-winning TEFL organisation?! Head to our courses page to check out our full range of training options, or take a quick 2-minute quiz to find out which of our courses is your perfect match!
If you have questions and would like to speak to one of our TEFL advisors first, you can arrange for a free call back and they'll be happy to help.
We look forward to helping you on your TEFL journey!
The post On to a winner with i-to-i TEFL! appeared first on i-to-i TEFL.