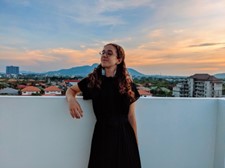 There are parts of life for all of us that hold amazing unforgettable memories, bringing us joy when we think of them. Teaching in Thailand was one of those experiences for me. My time in Thailand was filled with adventures and moments that created stories I will hold on to forever. Immersing myself in a new culture provided me with opportunities I never would have encountered if I had stayed at home. Taking the first step, however, can seem daunting when there are so many unknowns and possible risks. Therefore I would like to share my experience. I hope gives a better insight into what teaching there could possibly look like.
Teaching English in Thailand – Getting There:
The journey began before I even stepped foot in Thailand. I remember feeling apprehensive as I filled out the paperwork, wondering if everything would go smoothly. In the middle of a pandemic and even now, most of us agree that plans are more uncertain than before. I had applied to other positions around the world that had fallen through due to circumstances surrounding COVID-19, but Thailand was opening slowly and something about that gave me hope. 
Premiere TEFLs partners in Thailand helped me tremendously in getting all the correct paperwork completed before entering Thailand. With the ever-changing entry restrictions into the country, I found their advice extremely helpful and stress-relieving. Not only were my pre-departure needs attended to, but Premiere TEFL also created a group chat with other interns who were moving to Thailand. It was nice to connect with them before even getting to Thailand. Some of us were even able to make plans for our sandbox "quarantine" before we started training.
Meeting the Other Interns in Thailand:
When I first arrived I had to participate in the sandbox quarantine program, which consisted of "quarantining" for two weeks on the beautiful island of Phuket. During those 14 days, I met up with some of the other interns in the same teaching program as me. Since we were able to communicate before landing in Thailand, some of us chose to stay in the same areas, making daily excursions and meals easier to coordinate. My "forced" vacation, as I kept calling it, not only allowed me to make new friends but it was a great introduction to Thai culture. I know for those entering Thailand currently, these restrictions no longer exist, but I felt so lucky for my unique welcome to my new home for the next eight months.
English Teaching Training in Thailand: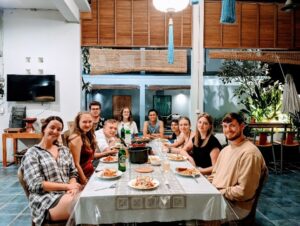 After the sandbox, my two-week training began in Chiang Mai. I was so thankful for this because education in every country is different. I wanted to be prepared to teach in this new country, which is exactly what my training helped me do. I not only learned techniques on how to structure my classes but the customs in a Thai classroom. I was often asked, "How will you teach them if you can't speak their language?" Sometimes I had the same question myself but after my training, I was able to effectively teach students who did not have a common language with me.
In my opinion, the most helpful part of the training was the in-person practice I had with students from nearby schools. It helped with my nerves and by the time I was in a real classroom I was well equipped and ready to go. In the end, the training was tough but effective. My favorite part was the last day of training when we all had a cultural day. The interns and I were taken to museums and temples, learning a more in-depth understanding of Thai culture from a hands-on perspective. After the training, the other interns and I rented a villa to celebrate the completion of our TEFL Course and the new chapter in our lives that we were about to embark on. Mine would start in Bangkok. 
First Impressions and Social life in Thailand:
When moving to a new country, lifestyle changes are to be expected. Of course, before I went to Thailand, I was waist-deep in research about the country and the customs, whether it was through videos, blog posts, or even pictures on Instagram. Regardless, all the research in the world didn't compare to living there.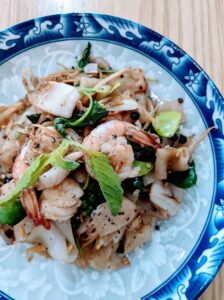 Aside from the typical cultural differences expected when moving to a new country, like food, customs, and language differences, one I found I needed to adjust to was the last-minute schedule changes. My plans and routines were frequently tossed to the wind, flying in all sorts of directions. I started to notice this right at the beginning of my time in Thailand when the start date for teaching was pushed back a month because of COVID-related reasons.
However, unexpected changes weren't a negative in my eyes. With free time came adventures. Whether it was by plane, train, or bus, traveling around the country was never far out of reach. During the time between training and teaching, I was able to travel around Chiang Mai, visiting an elephant sanctuary, hiking through the mountains, and temple hopping around the old city. These unexpected shifts in my daily routine happened frequently during my time in Thailand. Some of my favorite adventures sprouted from the changes in my daily routine, making my experience in Thailand all the more memorable. Once I learned to go with the flow, there was never a dull moment.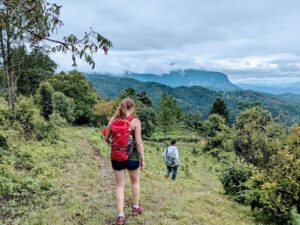 Yet, not all of the cultural differences I encountered needed an adjustment period. The people of Thailand were, in general, very inviting and kind. I definitely got lost more than once in Bangkok, but the unconditional kindness people showed me helped me learn my way around. I would get directions from people on the buses, who were always there to make sure I got off at the correct spot, and even bike taxi drivers would point me in the right direction.  I also joined a couple of volleyball groups, where I made a handful of friends. Even the local cafes near where I lived were places where I connected with kind people. One local café gave me gifts on holidays and sometimes even free tomatoes grown on their friend's farm, a great kindness that was shown in the short time I had known them. There is warmth in their culture and people that made it easy to have a home away from home. 
My Teaching Experience in Thailand: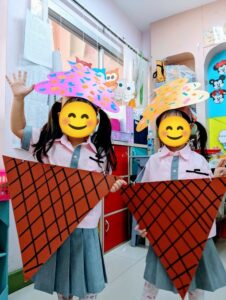 Cultural differences spilled into my life as a teacher as well. From the classroom structure to school lunches, there were a lot of differences from the education system in which I grew up. I was placed at a kindergarten school, something I had not come across before moving to Thailand. My students were in the youngest grade K1, which consisted of 3-4 year-olds. The school was designed for young learners with its colorful design and mandatory nap time after lunch. I loved how exciting and different every day was; I always had new stories that made me smile.
My students had been learning online for a while, so when we finally were back in school they were so eager to be there in person learning. Their favorite part of the year was their ice cream project. Every year, each grade has to do a project. This year my students chose to talk about ice cream. They each had a sentence or two that they had to say in English while being dressed up in cute little ice cream outfits the teachers made for them. On the day of the project they presented their hard work to their parents before having some ice cream themselves.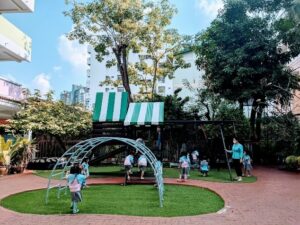 Apart from the fact that I enjoyed teaching every day at my school, the school staff as a whole was very welcoming. They made sure I adjusted well to my new school. Each class had one foreign English teacher and one or two native Thai teachers. The Thai teachers that worked with my class were super helpful when I had questions or needed help translating what the students were trying to tell me.
Not only were the teachers I worked with super supportive but other teachers in the building recommended me to parents looking for private tutors. In my spare time, I tutored students in the surrounding neighborhoods of the school. The extra income helped when I wanted to treat myself a little more than usual. I had so many opportunities for extra work and was even given the privilege to teach an all-day lecture to high school students who were going to be foreign exchange students in the United States and Canada. Although I am a hard worker, none of these extra opportunities would have presented themselves without the help of those I worked with or worked for. 
General Quality of Life: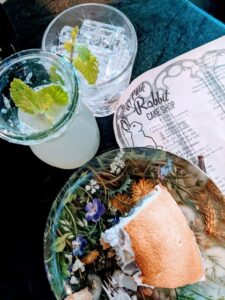 While living in Thailand I felt that my day-to-day life was relaxed compared to how it had been previously; I felt like I was spoiled. In my free time during the weekdays, I would explore the city.
One thing I enjoyed doing was café hopping. Thailand has a café culture. A lot of the time I would go find a new café to relax or do work in. They were all wonderfully unique spaces that made my daily routine feel different. Some also had tasty sweets that I would try every once in a while. However, cafes weren't the only thing in Thailand that made my days more interesting. 
I also loved the street food. Dinner was always a surprise. I had some regular stalls that I would go to, but if I felt like trying something new, the possibilities were endless. To be honest, half the time I didn't know what I was eating but I was enjoying it. Being a pescatarian I thought I would have an issue finding something to eat in a country where a lot of the dishes are based around chicken, pork, or beef. However, I found it easier than expected. Most of the time I was able to ask for no meat or tofu as a substitute, sometimes getting a discount for ordering a meatless meal.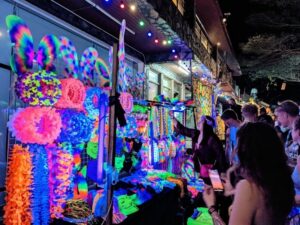 Then there was also the traveling around the country. Since public transportation was so easily available, my weekends were filled with adventures to beaches, mountains, and sometimes just visiting my friends who lived in different cities. One of my favorite trips was to Koh Phangan, one of the islands in Thailand that hosted a big New Year celebration. All it took was an hour's flight to leave the city for a beautiful beach-filled island to meet my friends for the celebration. Another time I had a long weekend and treated myself to a glamping excursion where I relaxed and unwound. Every weekend had endless possibilities for mini-trips, and I felt my quality of life was heightened because of this. There was always something new and exciting around the corner to look forward to.
Thoughts After Leaving: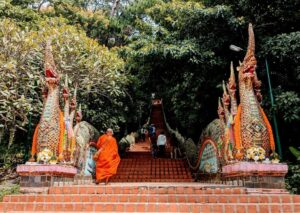 As my time in Thailand was coming to an end, I was rushing around trying to do as much as I could during my last week there. One more massage, one more café, one more dinner with my friends, and the list goes on. I knew it was an impossible task, but I had come to love my new home so much that I wanted to make sure I didn't waste a second of my final days. I look back on my time there and I am so happy that I took the jump to move across the world to see life from a new perspective. I was able to solidify a dream of mine and the goals I had set for myself.
I lived in a country I had wanted to visit since I was in high school, exploring the country as much as my heart desired. I gained experience as a teacher to continue my love for traveling and teaching. This program enhance my resume, which helped me land a job next October teaching in Spain! Thailand also exposed me to things I never thought would enrich my life the way they did. A person can never know the incredible experiences that could lie ahead of them if they are skeptical of great change. Everyone's journey and experience will be different in their own way and there is something to be desired in that. I hope my next journey is as rewarding as Thailand.
The post My Experience Teaching English in Thailand appeared first on Premier TEFL.