Let's take a virtual journey south of the border to one of the hottest ESL destinations in the Western hemisphere: Mexico. Thousands of foreigners, most from the US and Canada, relocate to teach English in Mexico each year.
Here's why you might consider following suit. ¡Buen viaje! ("Have a good trip!")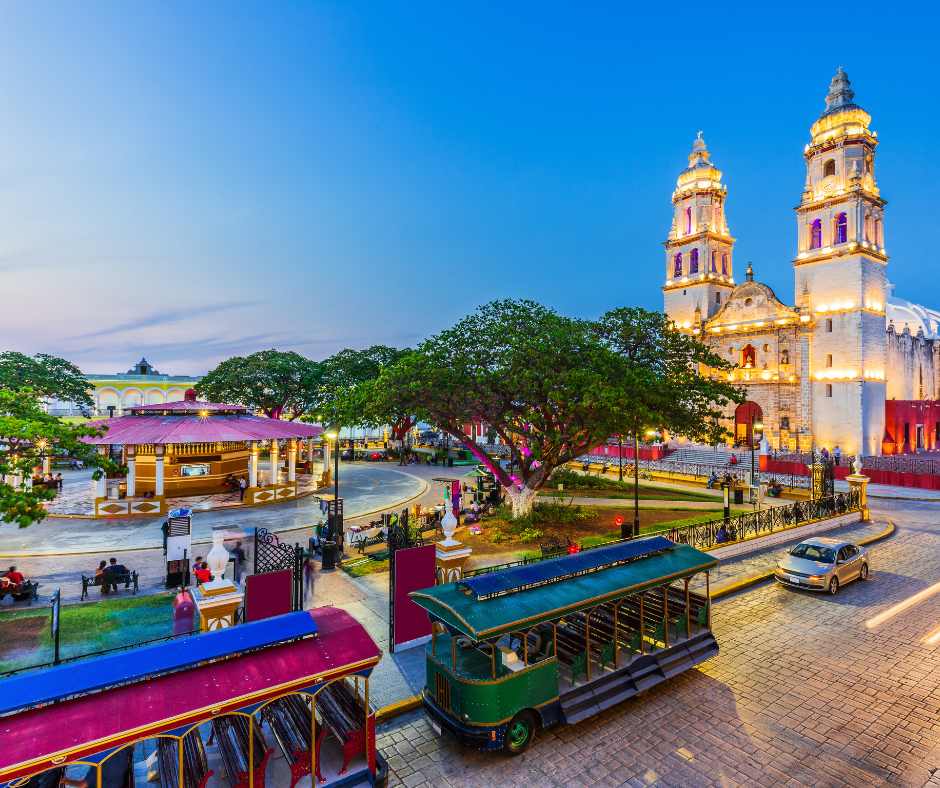 Why teach English in Mexico?
Mexico is vibrant and diverse – both in geography and in culture – with a ton to offer any adventurer. More than a million expats live in Mexico for various reasons, including its low cost of living, lax employment laws, general reputation for freedom, and, of course, the delicious cuisine.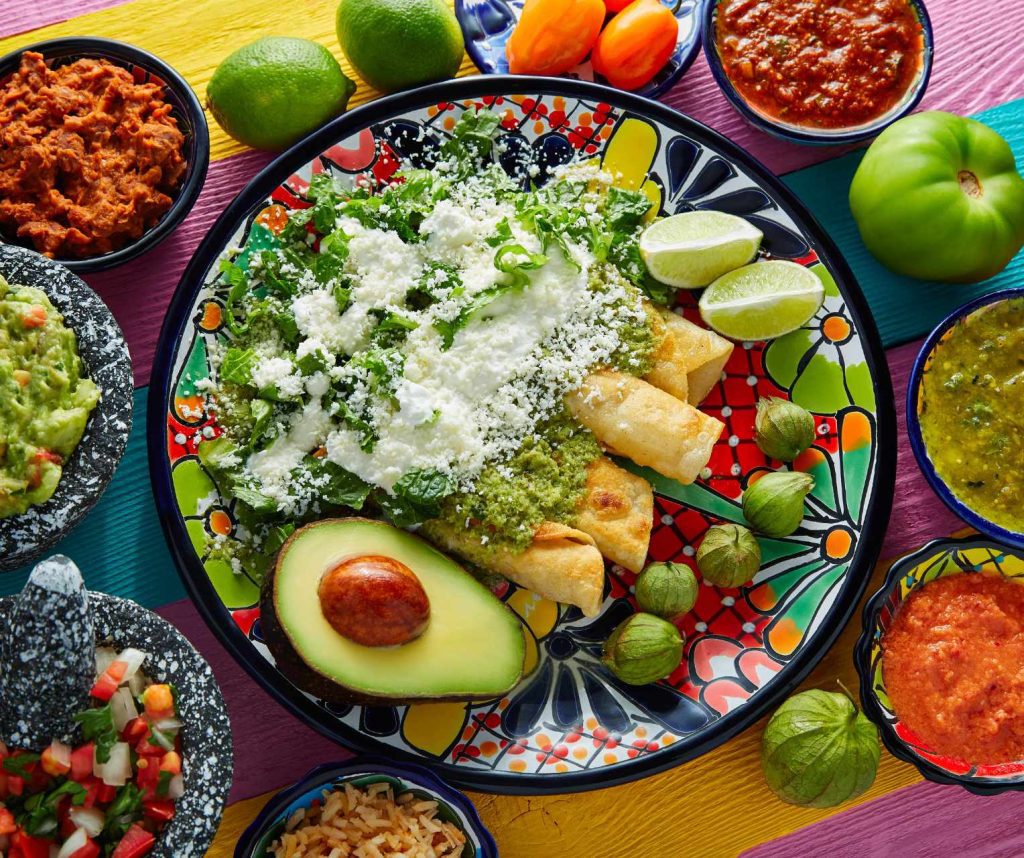 Regarding the ESL industry, there is no shortage of jobs waiting to be filled by the right candidates, from positions teaching adults to those educating young children.
Pros and cons of living in Mexico
Let's briefly run down a few pros and cons of living and teaching English in Mexico.
Mexico ESL pros:
Plenty of ESL jobs are available to Americans, Canadians, and other native English speakers
Large expat community
Low cost of living
No degree/no native speaking status is required for many positions
Mexico ESL cons:
High crime rate in some areas
Low salary compared to countries in East Asia and the Middle East
Relatively high work visa fee ($150)
What are the requirements to teach English in Mexico?
Here are the essential requirements for many ESL positions in Mexico:
TEFL certificate. Having an accredited teaching English as a foreign language (TEFL) certificate is a huge asset and a must-have for many ESL positions. Such a certificate opens up doors not just in Mexico but throughout the world.
Check out TEFL Hero's fully accredited 120-hour online course. It's entirely self-paced and costs just $99, so it's one of the most affordable and easiest certifications to earn.
FM3 work visa. Your school will help you get this visa, which you need to live and work legally in Mexico. Don't risk teaching on a tourist visa as it might result in fines or deportation.
Native speaking status (required for some more advanced positions at international schools and universities)
4-year university degree (required in some circumstances but not all)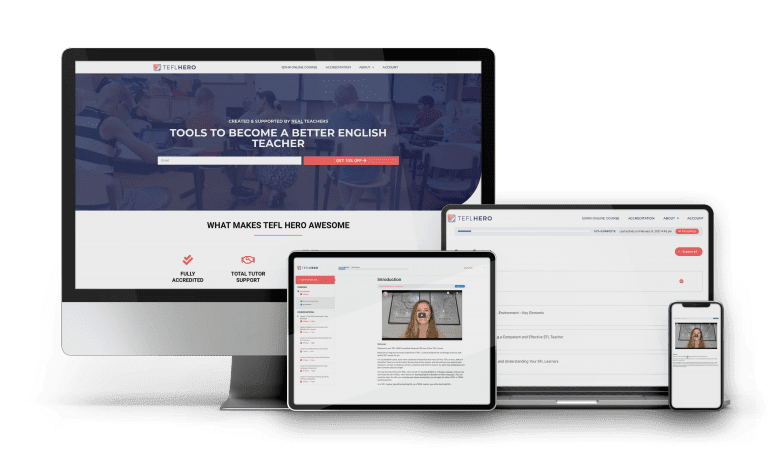 Get Certified to Teach Anywhere!
Bear in mind that not all of these general requirements (except the work visa one) are applicable for all positions. Mexico is one of the easiest markets in terms of requirements for teachers, so don't hesitate to apply for jobs even if you don't have all of these qualifications.
If you don't have a degree and/or you're not a native speaker, TEFL accreditation can go a long way to make you an attractive candidate to employers. If you're seeking other places to teach without a degree, you can consider teaching in Thailand without a degree.
TEFL in Mexico: salary and cost of living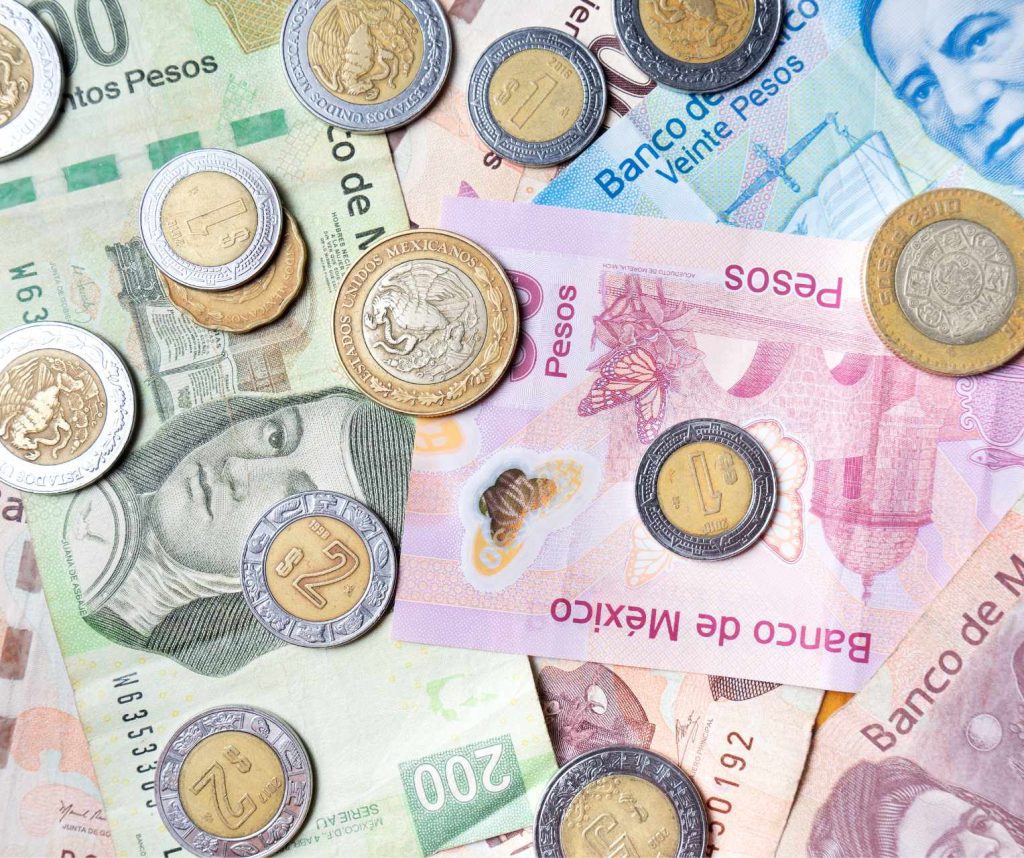 As we'll explore coming up, ESL teacher pay isn't super lucrative, but the cost of living is concomitantly low.
How much do teachers make in Mexico?
Let's stipulate right off the bat that you won't get rich teaching English in Mexico. But you'll make enough to live well and, if you're careful, to save a little bit.
The salary to teach English in Mexico, as is true for most of Latin America (like teaching in Costa Rica), is relatively low in comparison to other popular ESL destinations globally. The typical salary you can expect to earn, except for the higher-end positions in international schools, is between $500–$800 USD (10,200 – 16,300 MXN).
Universities and private schools tend to pay slightly more (usually around $1,000/month) and international schools pay even more. But the bulk of available positions pay less than $1,000/month.
Freelance tutors can pull in $7-$15/hr, depending on whether you're in a big city or a more rural area.
What's the cost to live in Mexico?
To get a baseline idea of the cost of living in Mexico, here's a representative breakdown of typical expenses in the southern city of Campeche near the Yucatan Peninsula, as provided by Numbeo:
Meal, Inexpensive Restaurant: $4.46
Local Cheese (1 lb): $2.15
One-way Ticket (Local Transport): $0.38
Basic (Electricity, Heating, Cooling, Water, Garbage) for 915 sq ft Apartment: $54.18
Apartment (1 bedroom) in City Centre: $297.44
The cost of living is highest in places heavily trafficked tourist hubs like Mexico City and Cancun and Puerto Vallarta. Outside of those jurisdictions, living comfortably on less than $1,000/month is very doable.
Types of English teaching jobs in Mexico
As with any country, there are different types of English teaching jobs available to foreigners. Here are a few of the most readily available.
Mexico ESL Job #1 – Private Language Schools
Private language schools are the most plentiful types of ESL jobs available in Mexico. The highest concentration of these private language schools is found in the major cities like Guadalajara and Mexico City.
TEFL certification is often a requirement. These private language schools routinely offer salaries up to $1,000/month. Check out the private school offerings on Glassdoor (more on where to look for work later).
Mexico ESL Job #2 – International School
International schools are simultaneously the highest-paying and most competitive types of ESL positions in Mexico. Many require prior teaching experience, advanced degrees in education, and other qualifications that you wouldn't need at other types of schools.
The salary, however, is also much higher than the industry average. You can pull in $3,000+ plus per month in Mexico at one of these schools – way higher than the standard income.
Mexico ESL Job #3 – Public School
The Mexican education system divides students into three groups: primary (primaria) for elementary school-age children, secondary (secundaria) for middle school-age children, and prep (preparatoria) for high school-age children.
Public school positions are stable and relatively relaxed in terms of performance expectations. However, there is more government red tape to process to get approved to teach in a public school. Also, they are the lowest-paying positions in the field. Not many pay more than $500/month. 
Mexico ESL Job #4 – University / College
English as a second language is a requirement for most undergraduate studies at Mexico's numerous universities, which means that there are many positions open to foreign ESL teachers at these institutions.
Pay is usually a little higher than the average ESL position in Mexico, with many offering north of $1,000/month.
Check out this position advertised for Universidad Tecnologica de la Mixteca in Oaxaca state.
Where to teach English in Mexico
As the 14th-largest nation on Earth by land mass and a population greater than 120 million, you have a wide range of options in terms of where to teach English in Mexico.  
Mexico City, the capital, is the largest and most abundant spot for ESL jobs. It's full of cool expat-friendly neighborhoods like Polanco, Juarez, and Roma, and home to numerous international schools.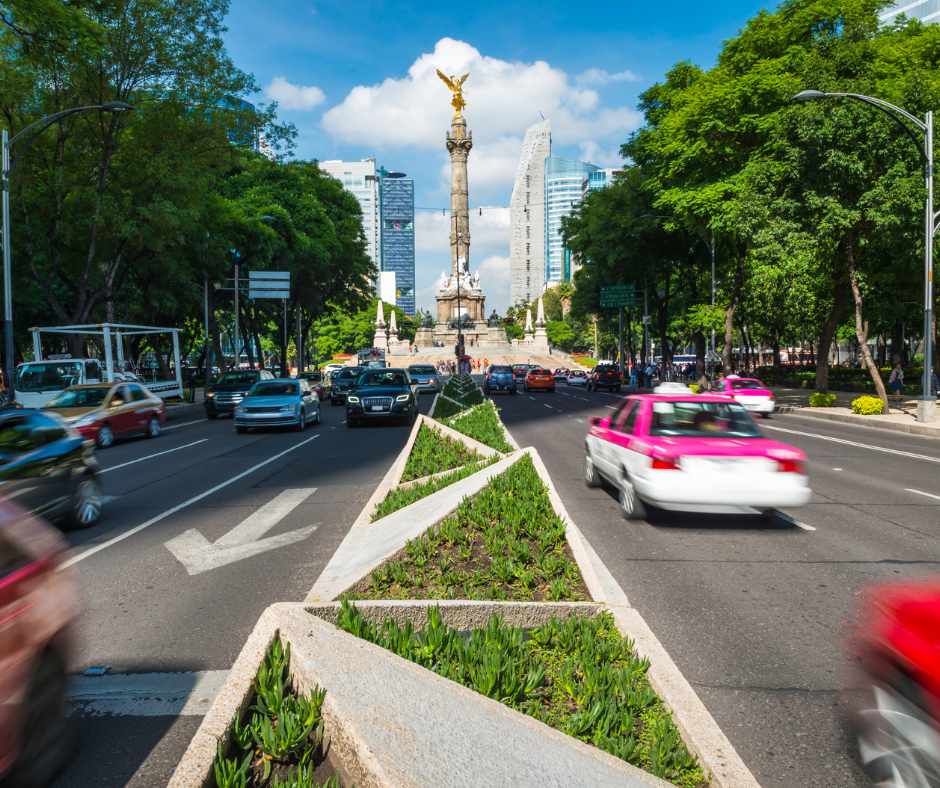 Mexico City is the largest city in North America
Other cities of note to consider making your ESL home include:
Guadalajara, the second most populous city with more than 3.5 million residents and the capital city of the western state of Jalisco.
Cancun, the tourism capital of Mexico on the eastern side of the Yucatan peninsula. It's got a population of nearly a million people, including tourism workers in need of ESL education. So the industry is thriving here.
Veracruz, the capital city of the Free and Sovereign State of Veracruz de Ignacio de la Llave, located on the eastern Gulf Coast of the country featuring hundreds of miles of beautiful coastline.
Merida, another gem on the Yucatan peninsula and capital of Yucatan state. Merida is home to a rich legacy of Mayan culture, with multiple heritage sites nearby like the world-famous Chichen Itza. It's also consistently ranked as one of the safest cities in the country.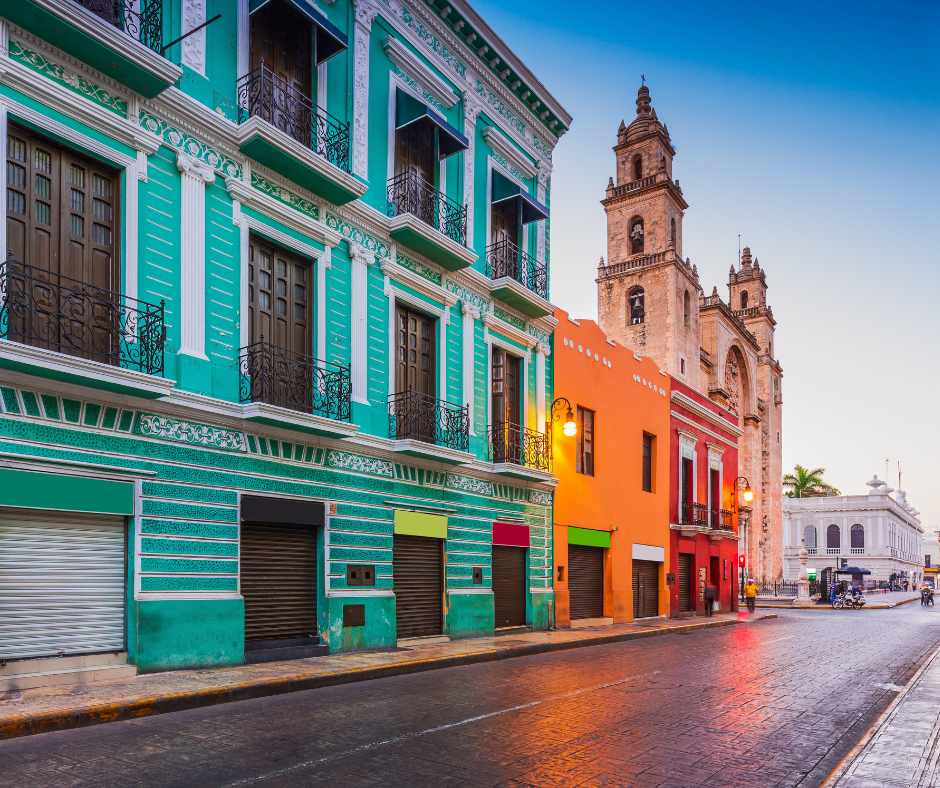 Old Town in Merida, Mexico
How to find jobs teaching English in Mexico
If you're still in the US, Canada, or your home country, the best bet to find a teaching job is to look online. The web is full of resources to connect you with well-paying jobs that we'll detail coming up.
When to start
The Mexican school system follows the American calendar, so for many positions it's best to find a job in July or August to secure one for the school year that starts in late August or early September. In the private sector, language schools hire year round, but international schools hire by the spring before the school year.
Where to start
Let's explore some resources that you can use to land the job you seek.
Most recruiters and schools utilize online job boards to discover teachers. The most useful ones for the Mexican ESL industry are:
Facebook groups – such as English Teaching Job Listings in Mexico (TEFL | TESOL | ESL) – not only function as job boards but also as forums where ESL teachers countrywide can exchange stories and tips relevant to their experiences.
How to get hired
Here are a few tips to help you get hired ASAP:
Polish your resume
Take some pro headshots to send to employers
Complete an accredited TEFL program
Use the job boards above to identify jobs of interest
Send your resume and application to at least two schools per day
Follow up with thank-you emails following interviews
Get hired
Demand for ESL teachers in Mexico is high, so with a minimum amount of dedication you'll surely connect with an ideal job.
Related: 15 Tips for Teaching English to Spanish Speakers
What visa do you need to teach English in Mexico?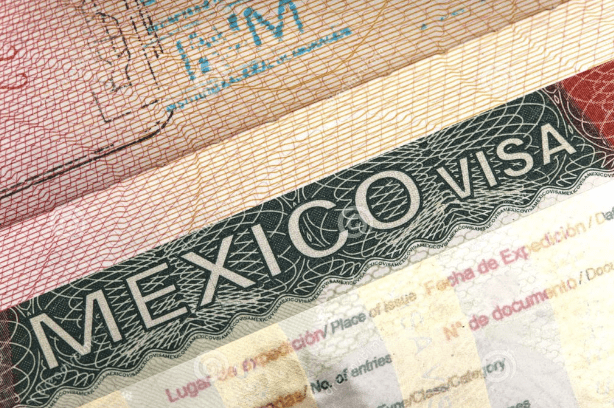 Teachers require an FM3 visa to legally reside and teach in Mexico. Your school should have a dedicated staff member available to help you through the process, or even to complete the process on your behalf. Always ask about visa assistance in any job interview.
FAQs About Teaching English in Mexico
Let's run down a few frequently asked questions (FAQs) vis-a-vis teaching English in Mexico.
Is it safe to teach English in Mexico?
Safety is a legitimate concern in Mexico. Different regions have different safety profiles. The Yucatan Peninsula is the safest region. Follow good practices like avoiding going out alone at night, traveling in groups, and securing valuables.
Can I save money teaching in Mexico?
You can save, on average, a couple of hundred dollars per month if you are careful with money but not much more unless you have a high-paying job.
Can I teach in Mexico without a degree?
Absolutely. There is no legal requirement for a degree and many schools are open to non-degree holders. Some schools do require one.
Are English teachers in demand in Mexico?
Yes. Between the tourism industry, the business sector, and students hoping to get a visa, demand is very high for ESL instructors.
Where does this post come from?
This post was originally published at How to Teach English in Mexico: Beginner's Guide on the TEFL Hero Website.