Have you found yourself wondering whether it's possible to teach English abroad without a TEFL certification? Look no further for the definitive, authoritative answer provided herein.
What's a TEFL Certificate?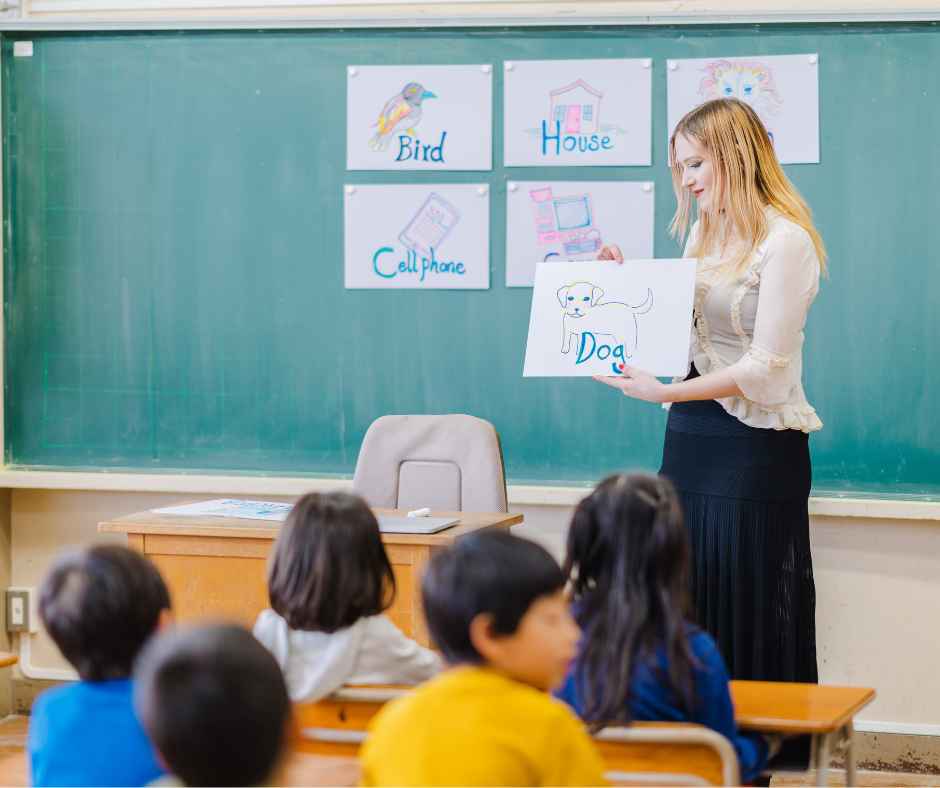 A TEFL certificate is the most common professional credential that pertains specifically to English instruction to foreign students. The acronym itself, TEFL, is an abbreviation for "teaching English as a foreign language."
TEFL certification serves as proof that a teacher has trained to teach English to non-native speakers – a very particular craft that requires a specialized skill set.
General Requirements to Teach English Abroad
I receive emails from prospective ESL teachers quite frequently along the lines of "Can I teach English abroad without a…?", usually followed by either "a degree" or "TEFL certification."
As anyone who has spent time perusing the web for ESL positions will recognize, here are the general (emphasis on general) teacher requirements that many schools list on their job ads:
Bachelor's Degree (or 4-year equivalent)
Passport from a native English-speaking country (defined as UK, Ireland, US, Canada, Australia, New Zealand, and South Africa passport holders)
Non-criminal record (sometimes)
TEFL certification (sometimes)
Although these credentials are commonly listed as requirements, they are, in practice, not universal. Even many schools that list them as requirements will not necessarily turn down the right candidate if he or she doesn't have one or more of them.
For this reason, I recommend applying to any position you really want regardless of your age, sex/gender, level of post-high school education, TEFL certification status, or other factors that you think might hold you back. Schools often negotiate on these points and hire candidates that make the right impression.
Can You Teach English Abroad Without a TEFL Certification?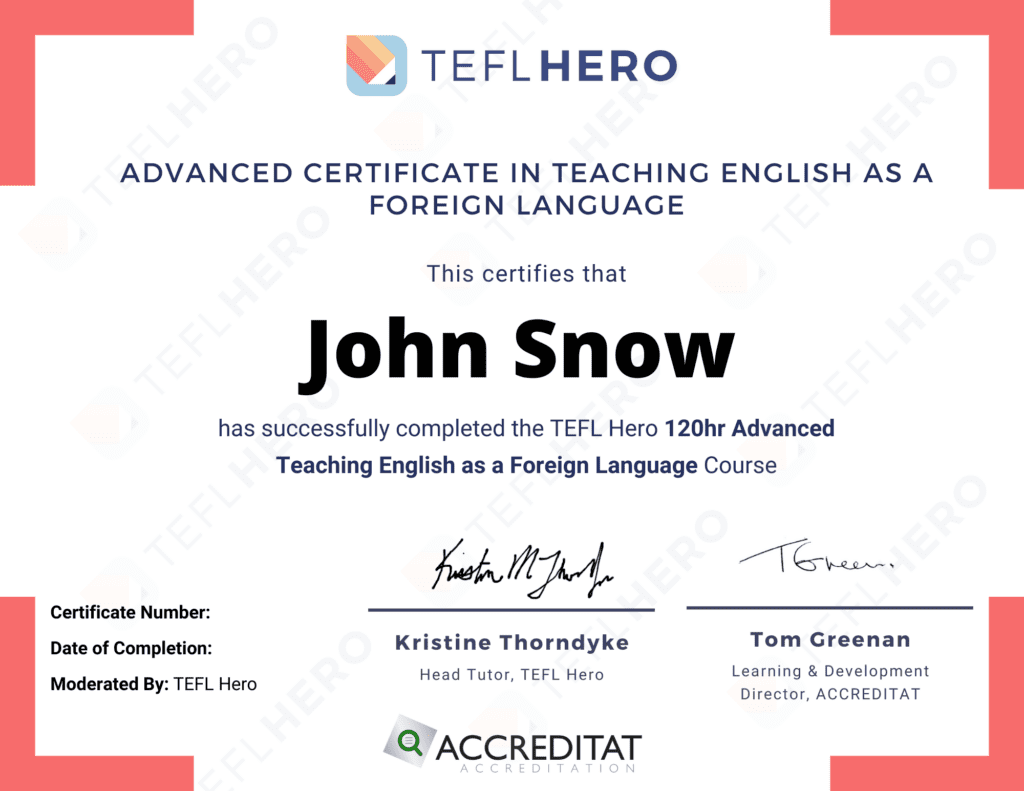 TEFL Hero TEFL certificate that you'll receive upon completing our 120-hour course
Yes. You absolutely, without a doubt, can teach English abroad without a TEFL certification.
But this good news comes with an important caveat: not having TEFL certification will limit your opportunities. In some jurisdictions, TEFL certification is a non-negotiable qualification and may even be required for the governing authorities to grant a visa and/or work permit.
Also, not getting certified may result in a lower pay rate. TEFL-certified teachers can demand higher salaries, on average, than those without certification.
Sometimes – like in the case of China – other qualifications such as two years of teaching experience may substitute for TEFL certification.
For these reasons, I'd recommend anyone thinking about teaching abroad to get TEFL certified – but it's not a dealbreaker if you are unable or unwilling to complete a course for whatever reason. If lacking a clear plan is impeding on your progress, see our starting guide on how to get a TEFL certification.
Where You Can Teach Abroad Without a TEFL Certificate?
Let's run down a few of the most popular ESL destinations with a plethora of job opportunities for the non-TEFL-certified (click on the links for more info):
Thailand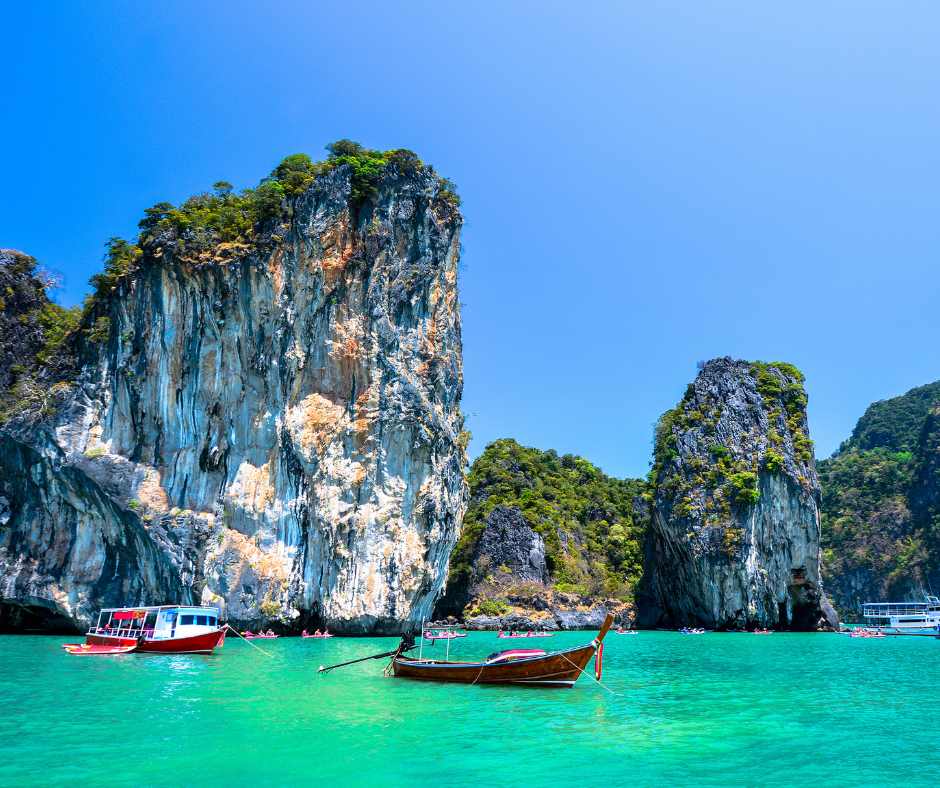 Legendarily, as described in a true tale I have previously regaled readers with, one of my coworkers at a private school in Thailand was a Latvian DJ in his prior life. He came to the Land of Smiles with no degree, no prior teaching experience, and no TEFL certificate. The administrators loved him and, for all I know, he is still teaching there to this day. We wrote up an entire post on how to teach English in Thailand without a degree.
Learn more about Teaching English in Thailand
China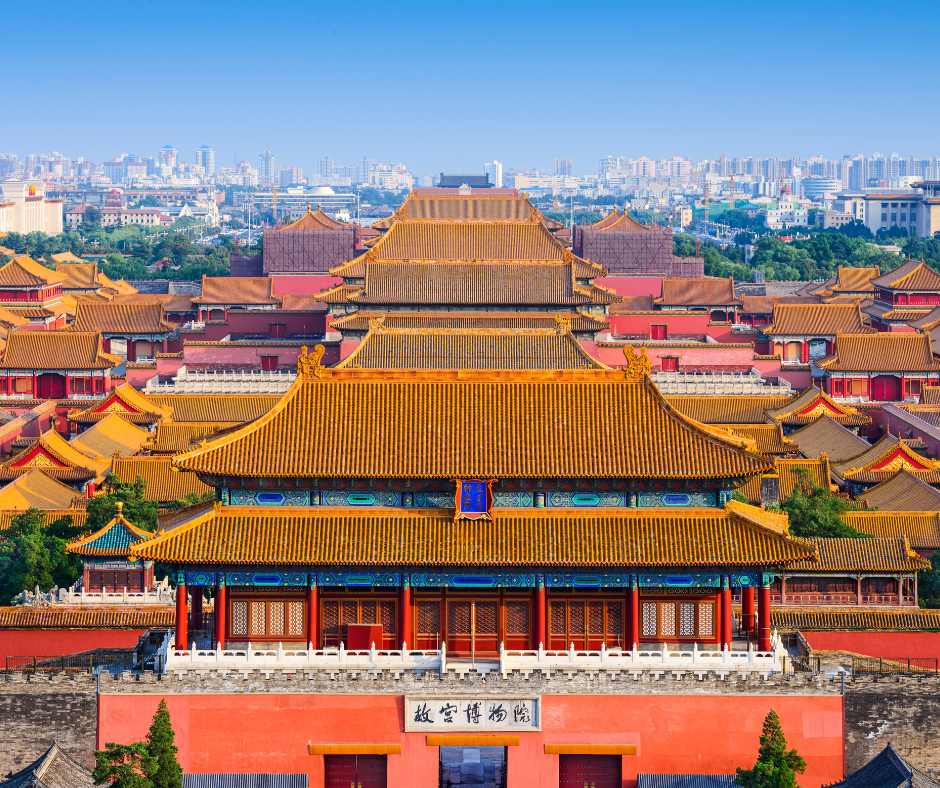 Demand for English teachers in China has slumped due to draconian COVID regulations in recent times, but in normal times the Chinese ESL market is packed with jobs for native-speaking English teachers, even ones without TEFL certification. The Chinese government understands that English is the language of the business world, and given its political ambitions of hegemony is interested in increasing its population's English proficiency.
Learn more about Teaching English in China
Japan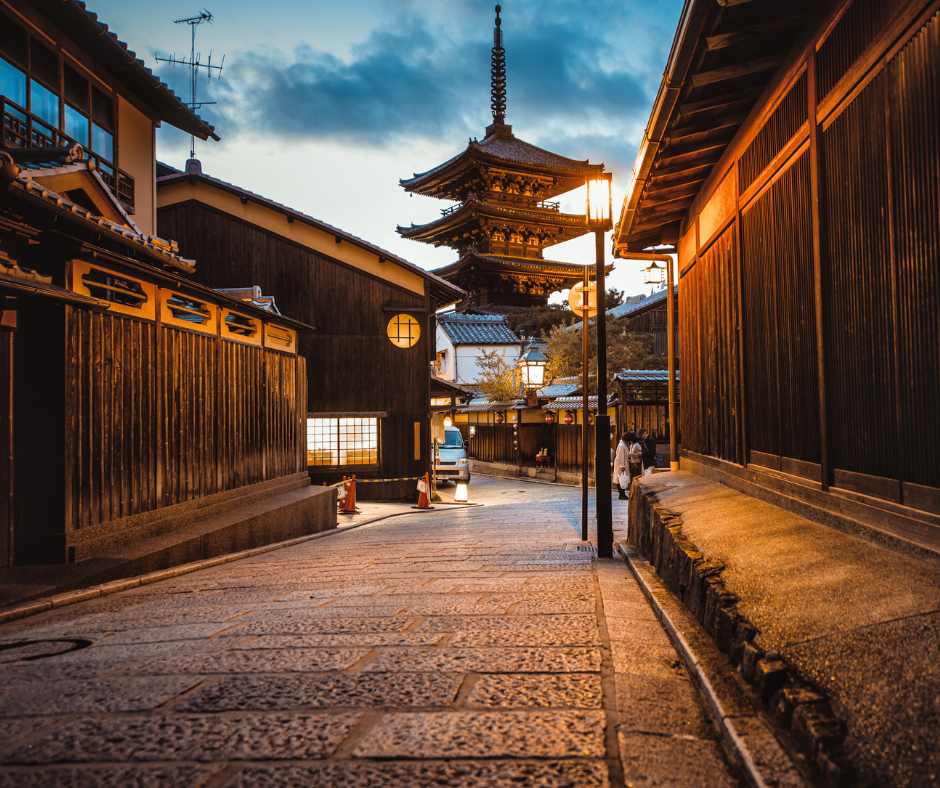 TEFL certification for Japan is not necessarily required but recommended for the competitive job market. For instance, the biggest sponsored ESL outfit in Japan, JET Programme (Japan Exchange and Teaching), does not necessarily require TEFL certification, although it is "highly recommended."
Learn more about Teaching English in Japan
South Korea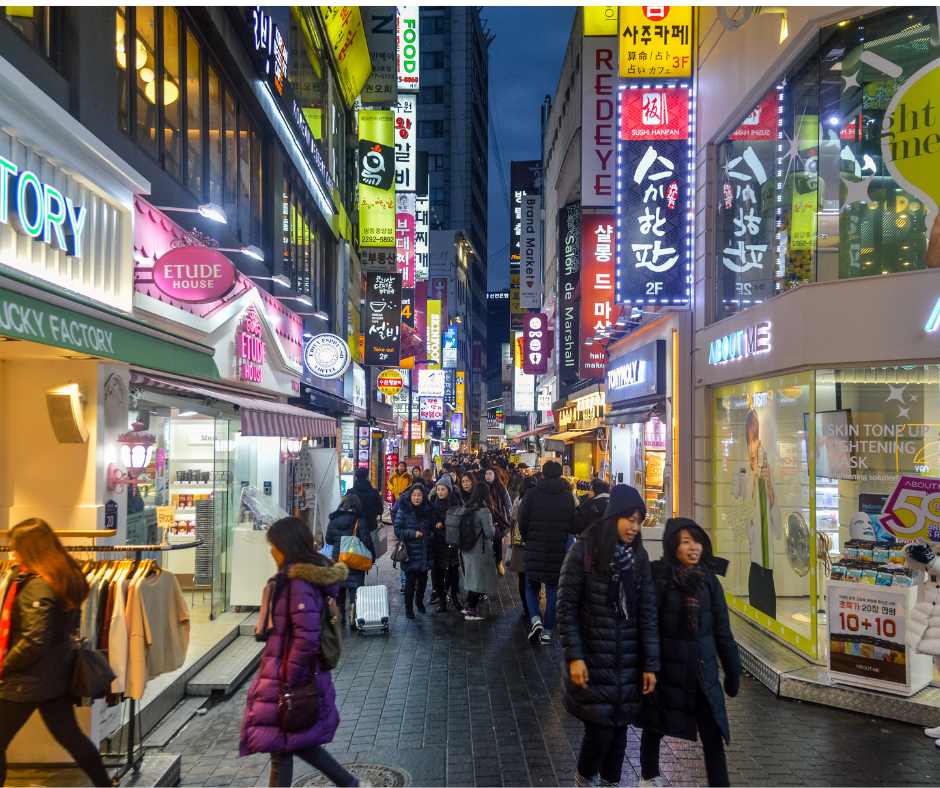 Like Japan, a TEFL certification is not necessarily required for South Korea but recommended for the highly competitive job market. It's not uncommon for Korean schools to list TEFL certification in teacher recommendations, but it's very possible to land a position at a "hagwon" (private language school) without certification.
Learn more about Teaching English in South Korea
UAE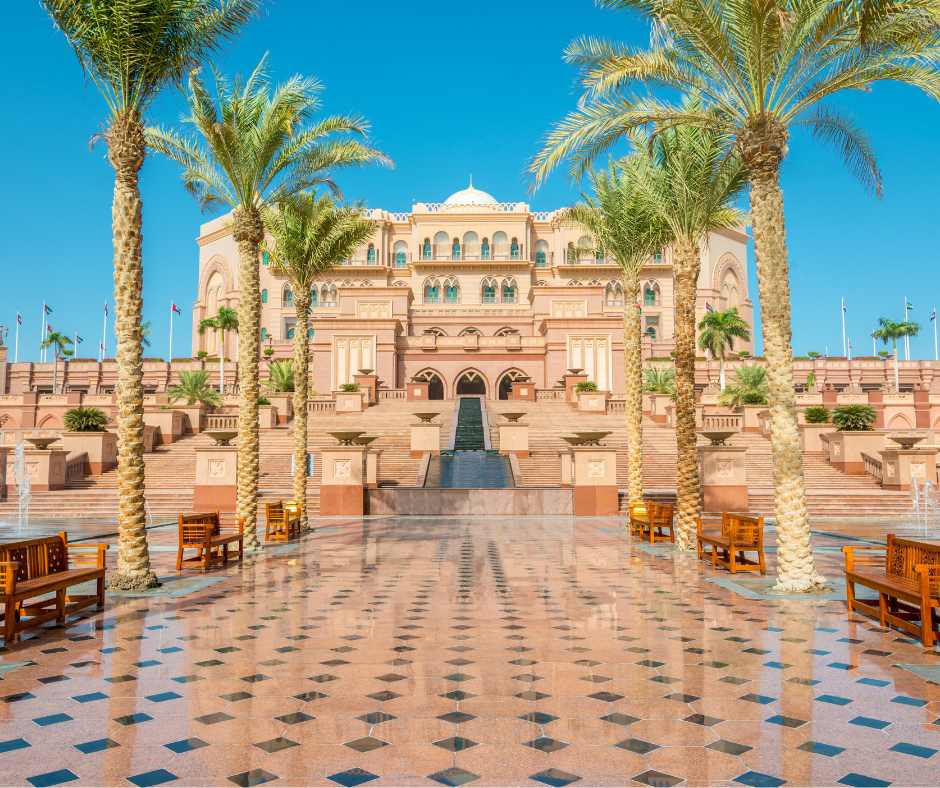 The UAE is home to some of the highest-paying ESL positions in the world, paying teachers up to $5,000 USD/month in some cases. Demand for teachers is also high. TEFL certification is not necessarily required. 
Learn more about Teaching English in Dubai
Portugal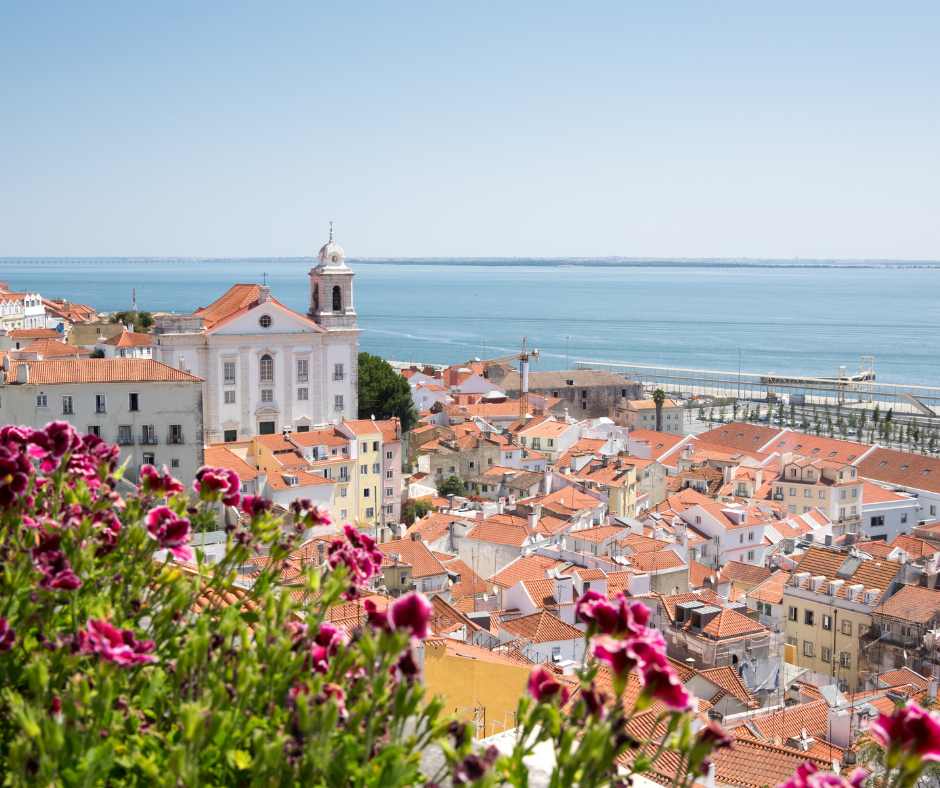 Portugal is eager to recruit teachers to support its large and growing tourism sector. Accordingly, it is more willing to accommodate candidates without TEFL certification than some other ESL destinations. A major selling point: when you teach English in Portugal you enjoy visa-free access to every European Union member states, including nearby France, Spain, and Italy.
Learn more about Teaching English in Portugal
The Case for Getting a TEFL to Teach Abroad
You might be wondering: if I can find a teaching job without getting TEFL-certified, what's the point?
Here are some reasons that you should consider earning an accredited TEFL certification:
It's an excellent addition to your CV that demonstrates to employers your sincere interest in providing high-quality ESL instruction
You will learn skills specific to the ESL discipline: cultural sensitivities when working in a foreign setting, academic teaching theories, time management, effective lesson planning, and more
It'll open up the higher echelons of the industry like colleges and universities and even international schools that do require certification of all their teachers
You'll make more money compared to uncertified teachers
Most TEFL courses come with an automatic, built-in professional support network for alumni – a great resource for getting advice and leads on potential jobs
TEFL Hero offers numerous TEFL course options, including a free 40-hour online TEFL course: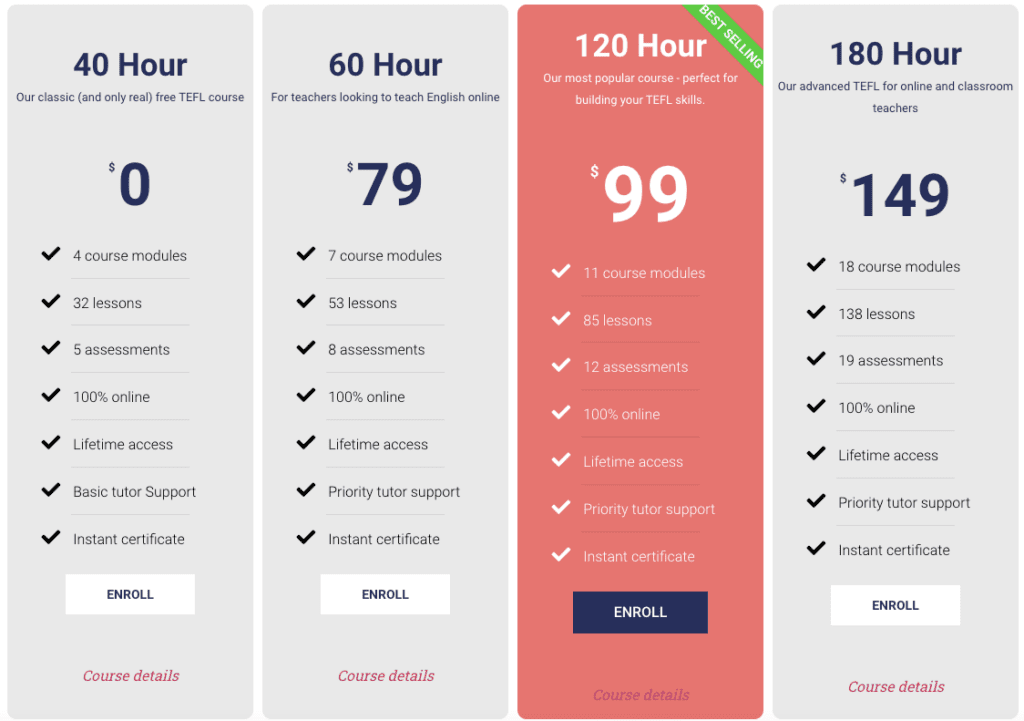 What Kind of TEFL Is Recognized By Global Employers?
There are many different types and lengths of TEFL courses out there. Which ones do employers prefer and which ones will really unlock new teaching opportunities? Choosing correctly can be an intimidating prospect.
Here we'll discuss the two main features to look for in a TEFL course:
Minimum 120-hour length
Accredited
TEFL course criteria #1: It must be at least 120-hour course length
Most TEFL courses come packaged according to the real or estimated number of hours of study they involve. The most common lengths are:
40-hour
100-hour
120-hour
150-hour
180-hour
120-hour TEFL courses are the industry standard.
While 40-hour or 100-hour courses might be worthwhile in terms of the content they teach, they will not be sufficient for many schools.
On the other end of the spectrum, 150-hour and 180-hour courses tend to be better-suited to more experienced teachers looking for more serious credentials. There are very few employers, outside of perhaps high-end international schools, that require more than a 120-hour certification.
For these reasons, I would recommend a 120-hour option like TEFL Hero's 120hr Online TEFL course to start for new teachers looking to establish themselves in the market.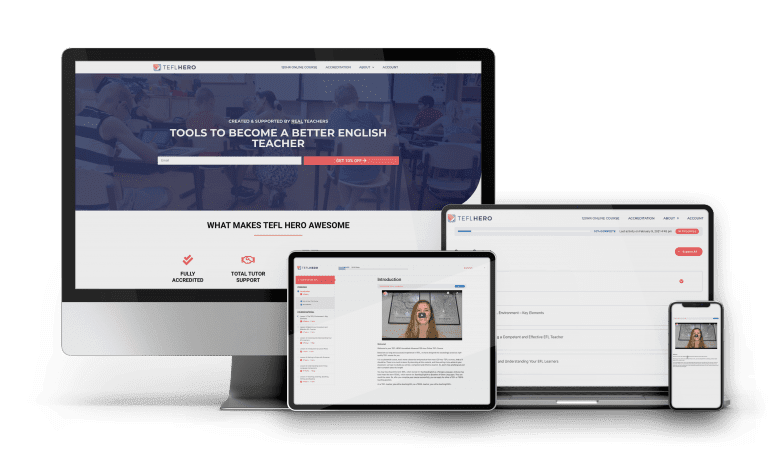 Get Certified to Teach Anywhere!
TEFL course criteria #2: Accreditation
Accrediting agencies inspect TEFL course curricula to ensure that they are up to snuff. The ones that pass the test are awarded their seal of approval – the only way, really, that teachers can know they are enrolling in a high-quality course in the largely unregulated TEFL industry.
Here are a few (but by no means an exhaustive list) of leading TEFL course accrediting agencies:
ACCREDITAT
Teacher Training Council
ACCET (Accrediting Council for Continuing Education and Training)
IATEFL (International Association of Teachers of English as a Foreign Language)
TEFL Hero's courses, for their part, are fully accredited by ACCREDITAT.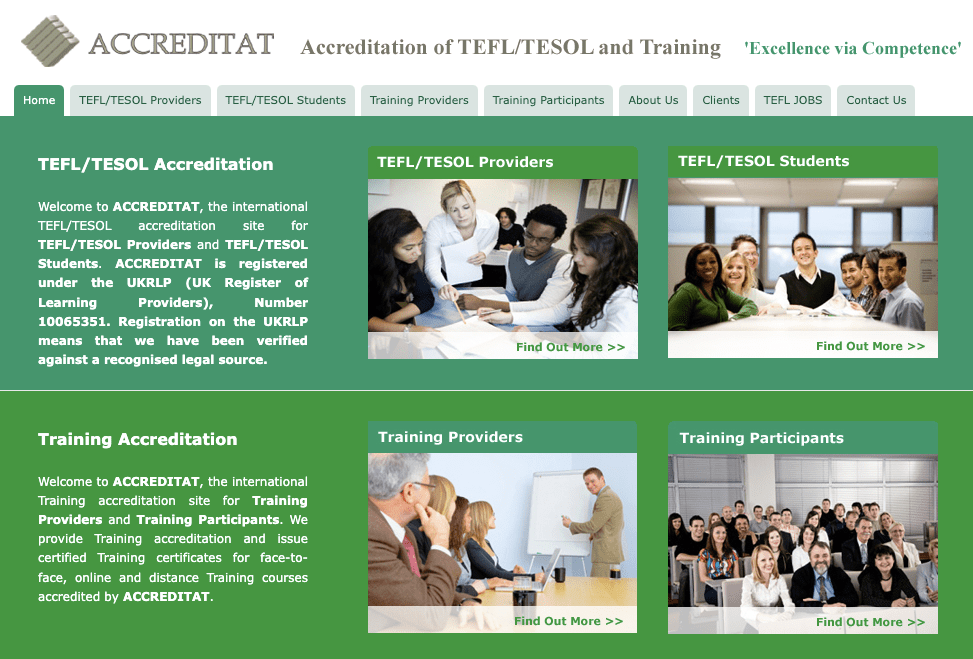 Does My TEFL Need Practicum?
Some, but not most, TEFL programs feature a section in the curricula carved out for hands-on teaching practice. Here, the participant applies the theoretical knowledge gained throughout the course to a controlled setting designed to mimic an actual classroom.
This section of TEFL courses is called "practicum."
CIEE (formerly Council on Student Travel), one of the oldest exchange programs for ESL teachers, explains the main benefits of TEFL practicum:
Some schools (but very few in practice) require TEFL certification with a practicum element
It provides the closest thing to real-world experience possible in a controlled environment
Helps you get an idea of what age group/classroom setting best suits your personal teaching style
It enables you to apply the academic material from your TEFL course to actual teaching practice
ESL professionals provide potentially valuable insight and feedback
Online TEFL courses, due to obvious logistical challenges, do not typically contain a practicum element. But many in-person courses do.
For all its potential benefits, practicum is not an essential element of a TEFL program. While it may be beneficial, no employer will hold it against you if your TEFL course did not contain practicum. They likely won't even ask.
Furthermore, although it mimics real-world settings, practicum is not a substitute for real teaching experience and is not accepted by schools overseas as a stand in for real teaching.
Teaching Abroad Without a TEFL FAQs
Let's answer frequently asked questions vis a vis teaching English abroad if you don't have a TEFL certificate.
Do I need a degree to teach English abroad?
No. A degree is not necessary to teach English abroad in many countries, including Thailand.
Can I get TEFL certified for free?
There are free TEFL programs out there, but most aren't long enough (120 hours minimum) to meet many schools' requirements.
How do I know if a TEFL course is legit?
The key to vetting a TEFL course is to look for accreditation (see section above on the topic for more info).
The bottom line on teaching English abroad without TEFL
Here are the cliff notes on our post Can I teach English Abroad Without a TEFL Certification:
Many schools but not all require TEFL certification in a candidate
Although schools may list TEFL certification as a requirement, they will often consider candidates without one
TEFL certification boosts your market value as a teacher
100%-online, self-paced TEFL courses like TEFL Hero's allow you to complete the program on your own time
Due diligence requires that you vet a TEFL program to make sure it's accredited 
Where does this post come from?
This post was originally published at Can I Teach English Abroad Without a TEFL Certification? on the TEFL Hero Website.