It's March, which can only mean one thing in South-East Asia – the arrival of the famous cherry blossoms! Each year, with the coming of spring, countries like Japan and South Korea receive a gorgeous gift of the 'en masse' blooming of their cherry blossom trees. The colours of the flowers range from white to deep pink and they are an impressive sight to behold!
So, why should you be interested in a flowering tree? Well, the obvious reason is the fact that they look absolutely stunning and you can spend days just marvelling at their beauty (while getting some great photos for your Instagram). Another main reason is that they bring with them lots of fun and interesting traditions and festivals for you to enjoy. So, there's never been a better time to head over to South-East Asia!
Japan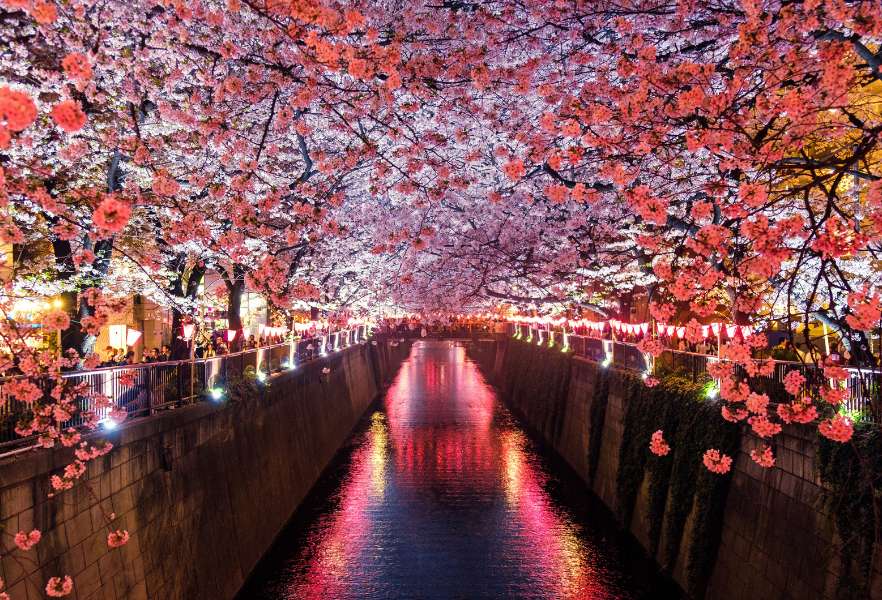 The most well-known for being a cherry blossom hotspot, Japan even has the cherry blossom ('sakura' in Japanese) as its national flower!
Cherry blossoms also have symbolic meaning in Japan, where they are considered representative of the transient and fleeting nature of life, a reminder of mortality, and a reminder of the fact that you should gracefully accept your destiny. This is because the cherry blossom flowers are only in full bloom for a very short time each spring, usually only a few weeks at the end of March and beginning of April.
Because of its importance, you'll find the cherry blossom symbol everywhere in Japan. From traditional tattoo art and kimonos to stationery and sports teams!
'Hanami' is the Japanese word given to the tradition of going to view the cherry blossoms. It's a tradition which dates back over 1000 years and is an important event in Japanese culture. It's usually celebrated by sitting under cherry blossom trees in public spaces (usually parks), having a picnic with family and friends, and drinking saké (a Japanese alcohol made from fermented rice). Be warned, you might have to get up early in the morning to get a good picnic spot, as it can get quite competitive and busy later in the day!
It's also important to note that the cherry blossom celebrations don't all happen at the same time in Japan, as they bloom at different times of the year in different parts of the country. Cherry blossom festivals usually start around March time and end in May, so now is a great time to go to catch them!
Want to find a TEFL role in Japan so you can get out there and experience the magic of the cherry blossoms this spring? Head to the LoveTEFL jobs board to check out the latest vacancies.
Need to get qualified first? Take our quick course quiz to find out which TEFL course is your perfect match!
South Korea
Another great place to see some amazing cherry blossoms ('beot-kkot' in Korean) is South Korea. They go all-out with their festivals, with each location having their own version, so you'll have loads to choose from. There is even have a cherry blossom marathon in Gyeongju!
Of all the festivities, the Seoul Yeouido Cherry Blossom Festival, which takes place in the park alongside the Han river, is arguably the most famous one in South Korea. It involves lively street performers, delicious food stalls, and arts and crafts exhibits, as well as prime viewing of around 1,500 gorgeous cherry blossom trees. Definitely not a sight to be missed!
As they do in Japan, the cherry blossoms also have symbolic meaning in South Korea, but the meaning is quite different! For Koreans they are seen as a symbol of purity and beauty. They have also been used in Korean pop culture (such as K-dramas) to represent true love.
Want to get out there and see them for yourself? And maybe fall in love (probably with South Korea!) as the cherry blossoms start to fall? Then check out our amazing Paid South Korea Internship – a fully supported way of getting a well-paid TEFL position in this beautiful country.