A TEFL Certificate, or often commonly referred to as your TEFL Certification, is the documentation you will receive that proves that you have successfully complete an accredited TEFL Course through an established firm. If you're new to the world of TEFL, T E F L stands for Teaching English as a Foreign Language.
Your TEFL Certificate gives you the qualification you need to apply to jobs where you'll be teaching English to students, both abroad and online.
How do I get a TEFL Certificate?
To become TEFL certified, you first need to complete a TEFL Course through an accredited TEFL provider. At i-to-i, we provide both Level 3 and Level 5 Courses, depending on the level of knowledge you wish to acquire. All of our Courses will qualify you to teach English online or abroad. Plus, we are regulated by Ofqual and accredited from ODLQC… no other provider can say that!

Who can get a TEFL Certificate?
You don't have to already be a teacher, have teaching experience or need a degree to get your TEFL certificate. Anyone who is fluent in speaking English can get TEFL certified. All you need to do is choose which Level suits your needs best. We would recommend a Level 3 if you are looking to TEFL whilst volunteering abroad. A Level 5 TEFL Course is the perfect solution for you if you want to earn a salary and make a career from teaching English abroad or online.
The only restriction is that you need to be over 18 to complete a TEFL Course. This is because when you come to apply for jobs as a TEFL teacher, they will likely specify that they are looking for candidates over 18 years old. There is absolutely no maximum age limit to TEFLing!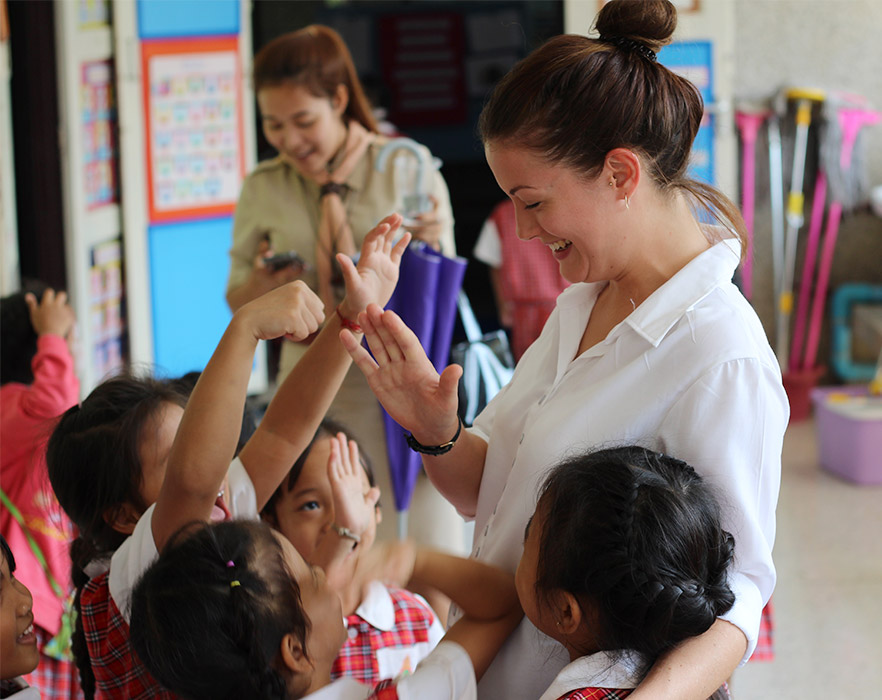 What jobs can I get with a TEFL Certificate?
With a TEFL certificate in your hand, the world is your oyster!
Fancy being your own boss, setting your hours and working at a time and place that fits around your busy schedule? Then teaching English online is for you.
If you are ready to explore the world, soak in new cultures and discover places you've never seen before… and getting paid at the same time? Then teaching English abroad is right up your street.
What can I do with a TEFL Certificate?
See the World
There are so many amazing places in the world that are just waiting to be explored. There's a whole world of colours, smells, sounds and experiences out there: from firecrackers echoing in the streets of Beijing at Chinese New Year, to the smell of some amazing street food at the Thai markets. Teaching English abroad is a great way to see the world whilst getting paid. Thailand, Ecuador, Indonesia, Czech Republic… wherever you want to go, a TEFL Certificate is your ticket there.
Challenge Yourself
Have you ever looked around you and thought 'Is this it… Really?' Well, it might be time to do something a bit more challenging with your life. Doing something more stimulating than staring at a computer screen for eight hours a day could be tempting, no?
Moving abroad is full of challenges. Hell, when you live overseas, even going to the supermarket can be an exciting foray into the unknown. Try it and you'll find yourself working out bits of your brain you didn't even know you had.
Make a Difference
You can really make a difference to your students lives, for some people it can really be the difference between a successful career in international business, or a frustrating life in regional bureaucracy, so you really could transform your student's lives. What could be more rewarding?
Enhance Your CV
While lazing on a beach, sampling the selection of cocktails isn't going to make you more employable. A stint teaching English abroad really will. In your time teaching you'll be gaining some really useful skills, such as leadership, communication and organisation skills, which are transferable to any job. So no matter what career path you go down, you'll have an impressive CV/resume which will make you stand out from the crowd.
Still not got your TEFL certificate? What are you waiting for? Check out our TEFL courses and see where your TEFL certificate will take you!

The post What is a TEFL Certificate? appeared first on i-to-i TEFL.