So, you've decided you want to TEFL – great! But now all that's on your mind is TEFL Jobs, and how to get one. It can seem like an impossible mountain to climb at first but, trust us, TEFL Jobs aren't as scary as they seem. And you can definitely get one!
Check out the questions you need to be asking, and all the info you need in our answers, to help you to land your dream role in no time.
When can I apply for a TEFL Job?
There are 2 different ways to interpret this question, so we'll answer both!
If you're asking this to gauge when, during your TEFL course, you can start applying for TEFL jobs, the answer is: as soon as you have your certificate! Employers will usually want to see a copy of your TEFL certificate before they make you an offer of employment, so you'll need to have this to hand as part of the application process. Good news? If you take our 420-hour course, you get a certificate once you've completed the first 180-hours. That means you can start applying for online positions as soon as you've completed this stage! You can then earn while you're still studying, and watch your wage increase as your TEFL experience and qualification increases! Want to find out more? Check out our free TEFL Career Roadmap.
If you're asking what time of year you can apply, there are lots of different types of TEFL jobs and contract lengths, which means that you can pretty much apply for one all year round! If you're looking for online TEFL jobs, you'll pretty much be able to apply at any time of year. If you're looking for TEFL jobs abroad, there will be peak hiring periods to look out for.
We've broken down peak hiring seasons, by the most popular continents to TEFL in, below:
Asia
For private schools you can apply all year round but peak hiring seasons for public schools tend to be before the start of the next academic year, so you're best to start looking in May/June.
There are generally some public-school positions available mid-way or part-way through the academic year (but bear in mind there might be fiercer competition for these ones!), so it's always worth keeping an eye out for them if you're not looking to start at the beginning of the academic year. Just try to remember that hiring tends to close 2-3 months before positions start, so work backwards from when you think you want to start. This way you'll be able to figure out when you need to start looking and when you need to apply. For example: If you want to start work in March, you'll need to make sure you have your application in before the end of December and it's best to start looking in September.
If you're applying for specific programmes, such as the EPIK in South Korea or the JET in Japan, these will have much more restrictive application periods. They also have longer application processes, so you need to plan in advance! The EPIK process tends to take around 3 months and there are 2 months of the year you can start the application process – August or March. The JET process can take up to 6 months and there is usually only one intake of applications per year. If you're looking to do this programme, you need to be applying September – November time.
Want to be sponteneous and find a job when you land somewhere? Fair enough! Countries in Asia are pretty good at hiring TEFL teachers on the spot, especially in Cambodia. While this might mean a bit of juggling and exiting the country briefly to sort out your teaching visa, it can be a good way of getting hired quickly, if you're desperate to start your teaching journey ASAP and you prefer a less planned approach to life!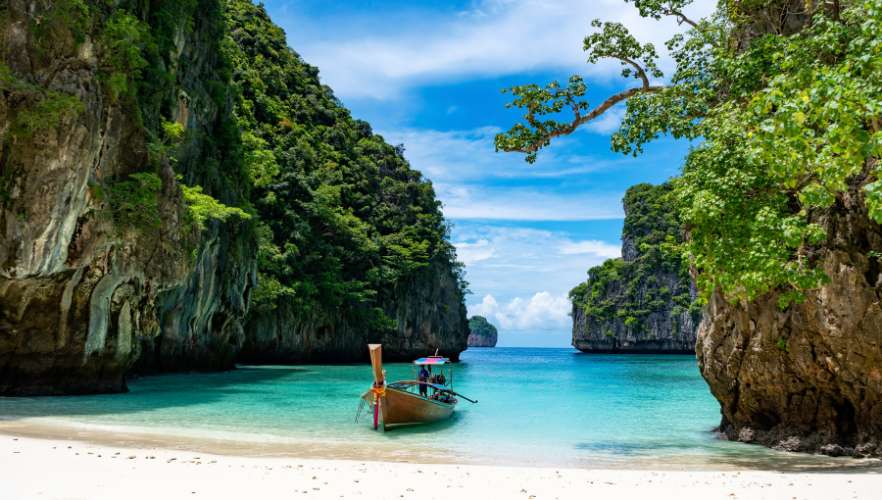 Europe
Private schools often hire all year round but public schools run on the academic year (which is September – June in Europe), so new TEFL jobs will be posted just before the summer break. Start looking in April/May and make sure your application is in by the end of June. There are usually some last-minute positions available, if you prefer not to plan too far in advance!
There will also be a number of summer school positions over the summer months, if you're working in a public school and want to make sure you're still earning during summer break. Hiring for these usually takes place in January, so keep an eye out then as summer school TEFL jobs tend to be filled by February.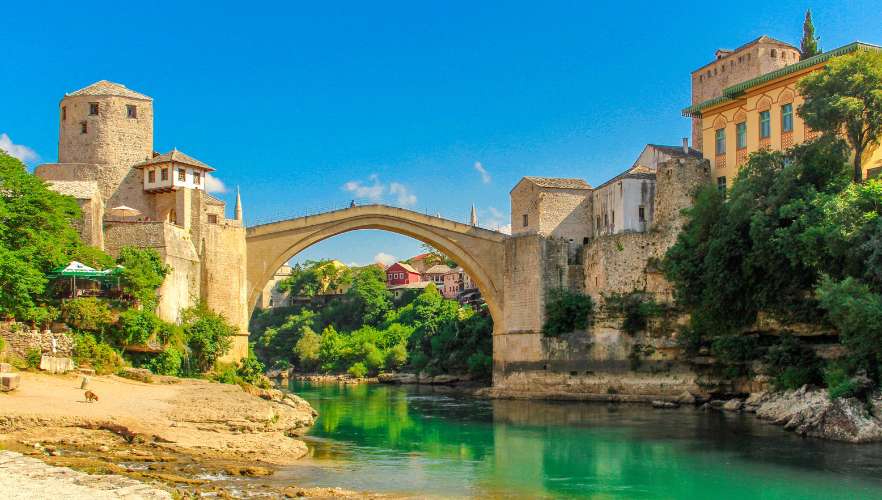 South America
Public schools in South American countries with a higher demand for TEFL teachers, such as Chile, Colombia, Argentina, and Peru, tend to have their peak hiring seasons February – April, with an additional hiring season July – August if they have lots of TEFL jobs available.
Public schools in Mexico work on the same academic year as Europe, so the peak hiring period here tends to be in June, July, and August.
Private schools will hire all year round but there tends to be a flurry of TEFL jobs adverts in October – December, so this is another key time to look.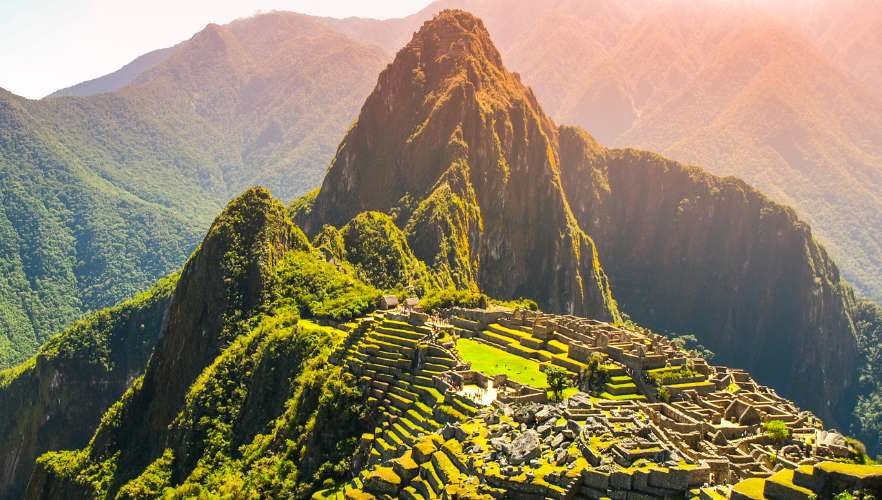 What type of TEFL Jobs do I want to apply for?
You definitely need to be asking yourself this question when you're looking for TEFL Jobs. Deciding whether you want to teach online or overseas will also affect the style of job application you complete (as well as the time you apply), and the places you look to find TEFL jobs. So, it's important to work it out earlier rather than later!
Abroad
TEFL Jobs abroad tend to be more structured, as they take place in a traditional classroom setting. Contracts are usually longer, often a minimum of 12 months, and can include benefits like free accommodation, flight reimbursement and bonuses (depending on where you want to teach). Overseas jobs can be advertised online and in-country, so you might find the perfect role on an internet jobs board, stuck outside the school on a notice board, or in a local newspaper!
Want to settle somewhere overseas and teach in classrooms abroad? Then your application process will look more like a traditional job application. You'll need to send in a TEFL CV and potentially a covering letter and/or fill in an application form, so they can assess whether you meet their needs and the legal visa requirements. You may then have an initial telephone interview but, more likely, you'll go straight to the formal interview. This could be in-person (if you're already in-country) or over Zoom/Skype/another online platform if you're applying remotely. The interview will usually involve you needing to teach a specific teaching point (e.g. the pluperfect tense) through a demo lesson, where the interviewers play the role of students.
Online
TEFL Jobs online are generally more flexible, and you can fit them to work around your existing schedule. This means you can work from home or work from wherever you are in the world (as a digital nomad). Although some companies have minimum hours to complete and the contract lengths vary widely, you usually won't need to commit to as much time as an in-person role. Online TEFL employers are also usually more open to hiring teachers from a variety of different educational backgrounds and countries (as you don't need to meet the specific visa criteria that in-country positions often have). You will generally only find online teaching positions advertised online, so TEFL Jobs Boards are your best search tool for online TEFL jobs.
Think online teaching sounds more your speed? Then you will need to complete an online application form with the employer and attach your CV. You'll also often have to produce a profile complete with an introduction video (that will appear on your profile on the online platform for potential students to view). You will then usually be invited to attend an online interview and, as part of the interview process, you'll need to conduct a demo online lesson.
How do I create the perfect TEFL CV/resume?
A key part of landing that perfect TEFL job is creating an amazing TEFL CV/resume. For this one we'll hand over to our amazing graduate, and TEFL Jobs veteran, Audrey! Check out the recording of her Live Webinar on this topic by clicking on the image below: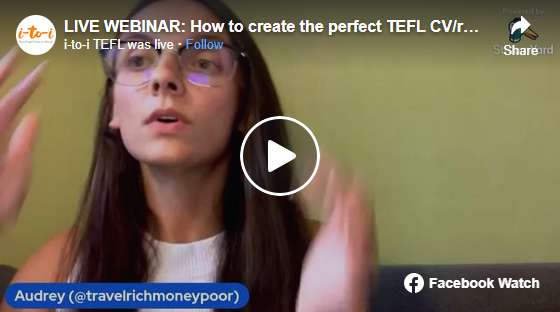 Don't have time to watch right now? The key things you need to remember for your TEFL CV/resume are:
Keep it to 2 pages max, ideally 1 page if you can fit in all the key information – employers won't read much more than that, and you don't want them to discount your application because they couldn't easily find the information they needed!
Make sure you include your name and contact information. A portait photo of yourself is optional, but TEFL employers definitely prefer CVs/resumes with images on.
Include a short personal statement/about me section – show your personality but make sure you connect everything to the role you're applying for.
Include your educational background and work experience – start from now and work backwards. Make sure you identify transferrable skills, if you've never worked as a teacher before.
It's definitely worth watching the video when you can, as Audrey gives some great insights and helps show you how to make your existing skills and work experience TEFL relevant. Her example CV/resume is also available in the comments for you to use as a template.
For additional information, including more CV/resume examples, check out our blog post dedicated to discussing how to build the perfect TEFL CV/resume.
How do I create an introduction video?
Another key part of getting your dream TEFL role, if you're applying for online TEFL Jobs, is making sure you have a great introduction video. TEFL teacher Audrey covered how to do this in another webinar. Check out her advice by watching the video below:
Don't have time to watch right now? A brief summary would be:
Make sure you have a background that matches the level of students you're looking to teach – e.g. bright and engaging for younger learners, more sedate and uncluttered for adults.
Be professional – your clothing, manner, and setting should all be appropriate for a teacher. E.g. Don't film in your pajamas, have your bed visible in the background, or use inappropriate language.
Make sure you have the right equipment – before you film you should make sure that you're using a good quality camera and microphone. Students won't want to be taught by you if they can't hear or see you properly!
Be friendly and approachable and make sure you match your energy level to your target audience – e.g. bright and energetic for young learners, using TPR. For adults you can be enthusiastic but less bouncy!
Make sure you're speaking clearly and at a moderate pace – your pronunciation should be clear, to demonstrate your 'teaching voice', and you should be speaking at a pace that makes it easy for potential students and employers to understand what you're saying.
Watch Audrey's video when you can, as she gives some great detailed information and examples.
Want to find out even more? Check out our blog post about creating effective introductory videos.
How do I ace my TEFL interview?
This is the big one! A TEFL interview is super important when applying for TEFL Jobs, as it's often the final stage before a formal offer of employment is made. If you're looking to land your dream role, you'll need to make sure you ace it!
We've got lots of blogs that go into detail on this topic, check out 3 of them below:
Rosland, one of our South African graduates, and Audrey have also done webinars on how to prep for and ace your TEFL interview. Click below to watch the videos!
Audrey also covers information in her interview webinar about demo lessons, and you'll find some top tips in your TEFL course for lesson planning and teaching specific points. So, this part of the interview should be a breeze!
Now you know all you need to know about TEFL Jobs and how to get one! Ready to get started? Head over to the LoveTEFL Jobs Board and check out the latest vacancies on offer!
Need to get TEFL qualified first? No problem! Arrange for a free call back from one of our TEFL experts and they will help get you started. You can also click the image below to find out what courses we have on offer!

Want to get more top tips from Audrey? Check out her Instagram @travelrichmoneypoor for a lot of useful info!
The post TEFL Jobs – And How to Get One! appeared first on i-to-i TEFL.