When it comes to my experience teaching English in Asia it's hard to know where to start. From the minute I stepped off the plane in China it has been a non-stop rollercoaster of a ride.
Let's Start at the Beginning
After becoming TEFL qualified in January 2018 I started my journey in Beijing, China. I had signed up for the teaching internship programme and had no idea what to expect, but I made it – I was in China! The orientation week still feels like a dream. The mix of an ice-cold February, an empty city, due to Lunar New Year, and the haze of the famous Beijing fog that had settled over the city created an atmosphere unlike any I had experienced before. We were introduced to Tai Chi, Mandarin and even given a lesson in Chinese calligraphy. Then, right at the end of the week, we were given our placements. I still remember the anticipation of walking up to that notice board in the reception of the school we had taken over as our base for the week. There were around 200 of us together on orientation so it felt like it took me the longest time to find my name! Eventually, I found it. I was on my way to Guangdong Province.
Guangdong Province is in Southern China, a world away from Beijing. 10 hours on a bullet train and a 2-hour minibus ride later we arrived at the school at midnight! It was the most beautiful school campus I had ever seen. It was full of mango trees and surrounded by hills. I had landed my dream placement! I immediately volunteered to teach the youngest group available, grade one. If I could describe the first few weeks of teaching English in Asia with one word, that word would be 'chaotic'. Complete and absolute chaos, but in the best way!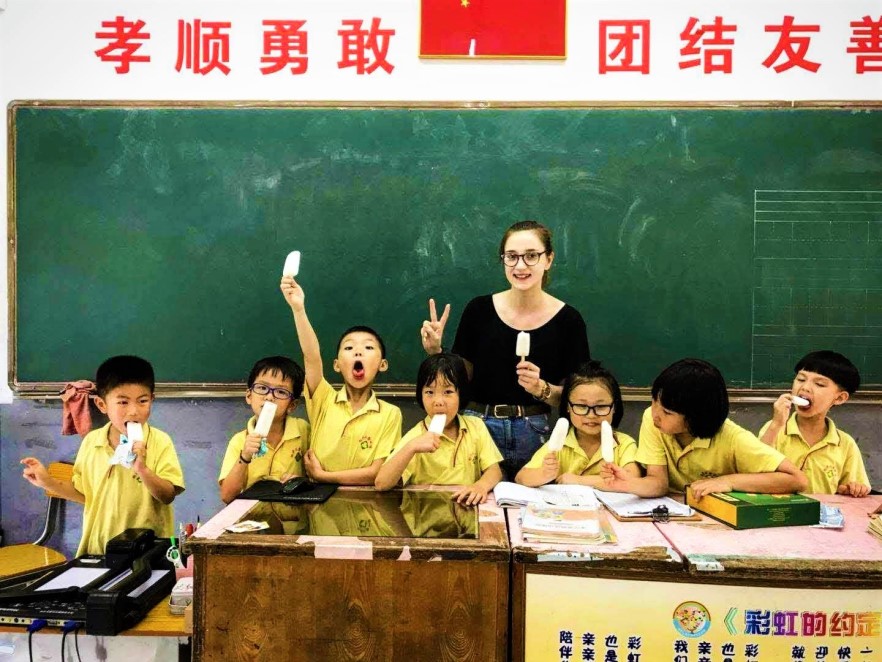 For my first 6 months in China, I taught 20 different grade one class per week, and I soon learned a handful of tricks to keep things under control. It was the best way to learn the ropes as a new teacher and although it may sound a bit repetitive to teach the same lesson plan 20 times a week, I can honestly say no two days were ever the same. From English competitions to school sports days there was always something going on and when I wasn't in the classroom or being roped into judging some kind of competition I was exploring my new home with my fellow teachers! One of the best perks of the job was having the same holidays as the students which allowed us to travel and see so much of China. When my internship came to an end, I was set to continue my journey teaching English in Asia with another internship placement in Vietnam, but I soon realised, that with TEFL, opportunities will just present themselves and you must take them. My school in China offered me a six-month full contract to teach in the middle school after summer and I just could not turn it down.
New Challenges
Accepting the job as a middle school teacher in China was daunting, to say the least. Teaching teenagers! What was I thinking? I'd always been a more "draw a picture, sing a song" kind of person and that just wasn't going to fly with a group of thirteen-year-olds… Day one after the summer holidays and I was right back to square one when it came to first day nerves. I shouldn't have worried though because it turned out to be just as much fun and now, I was able to have actual conversations with my students which had been difficult with grade one! Teaching a higher level really allowed me to push myself when it came to creative lesson planning. Again, I had 20 different classes a week with the same lesson plan but, even more so than with grade one, that lesson plan would go completely differently depending on which classroom I was in. I built myself a strong foundation of warm-up games that worked with teenage students and found that relating any lesson to The Avengers got everyone in the class excited to learn (this was peek Infinity War time so it was pretty much all my students wanted to talk about). In the end, I was so glad I took the job as a middle school teacher in China because it made me a better teacher and prepared me for the next step on my TEFL journey.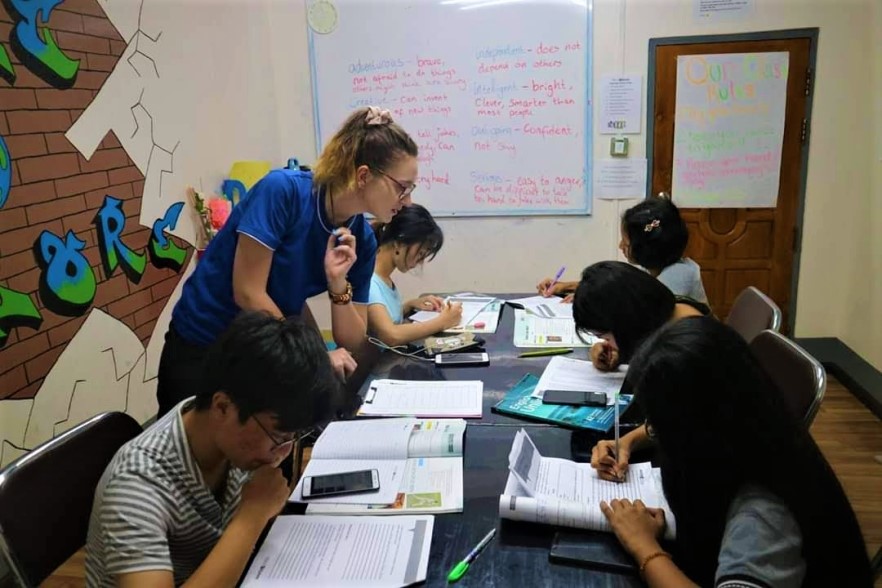 Exciting Opportunities
While I was still working in China, I was put in touch with the owner of a language centre in Myanmar who offered me a TEFL job whenever I was ready to leave China. So, after the most amazing year in China, I packed up my bags, spent a month travelling around Vietnam and then headed over to Myanmar to teach in a language centre in Yangon. The job could not have been further from my school in China. I went from having over 1000 students to having 15 at first and eventually around 50 which was split over a few classes.
Myanmar is where I really found my feet as an English teacher in Asia. I was able to use everything I learned in my TEFL qualification and due to smaller class sizes had a chance to really get to know each of my students. When we went into lockdown last year everything moved online so I was able to continue teaching my students from my apartment in Yangon. This was another massive change to my TEFL routine, but I was just glad to still be able to see my students – well hear them at least… they're a bit camera shy so I usually end up teaching a screenful of black squares.
My experience teaching English in Asia was completely unplannable. Originally, I was meant to be there for a year, I stayed for three and my journey isn't over yet! I'm still teaching my students online and I have plans to return to Asia as soon as the opportunity presents itself to me. If there is one thing, I have learned about teaching English, it's that it is the biggest and best adventure you'll ever have!

Want to start your own TEFL journey? Check out our TEFL courses or take our TEFL quiz to begin!